Supporting people with dementia and their carers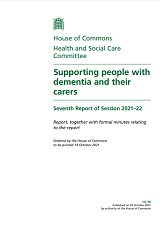 This short report builds on our previous recommendations on social care included in various reports on Social care: funding and workforce (opens new window). Workforce burnout and resilience in the NHS and social care (opens new window) and The Government's White Paper proposals for the reform of Health and Social Care (opens new window).
The report suggests that in order to ensure inclusivity for those living with dementia, efforts need to go beyond the health and social care system and recognises that achieving inclusivity requires changes to housing and transport. Therefore, the report recommends that:
"... the Government's new dementia strategy must include cross-departmental initiatives to ensure people with dementia are able to remain connected to their community."
The report also recommendation that:
"With many people preferring to stay living at home if diagnosed with dementia, it is vital that any future Government strategies for dementia support this becoming a reality. Initiatives such as Dementia Friends and dementia-friendly communities have successfully increased awareness of dementia but more needs to be done for those living with dementia to be included in their local communities"
With the growing number of people in England living with dementia, who instead of receiving integrated care across the health and social care system, are required to navigate complex and uncoordinated care pathways, this report further sets out the challenges facing people affected by dementia.