ADASS Autumn Survey 2023: Social care, housing, health and winter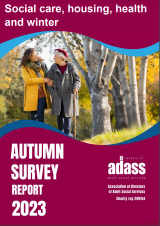 Based on a repeat survey sent to every Director of Adult Social Services in the 153 English councils with adult social care responsibilities, this report from The Association of Directors of Adults Social Services (ADASS) argues that prevention is the best cure to ease winter pressures across health and social care.
Highlighting that every decision about care is also a decision about housing, as well as the many facets to the interfaces between social care and housing, the report states that to escape a cycle of winter crisis in future years we need to shift to a preventative model of care that enables more people to live at home, or in a place they call home. Everyone should also be able to access the right information and advice at the right time to understand the different options available to them that best meet their preferences and circumstances, including options for where care and support would best be delivered.
The social care leaders surveyed by ADASS identified sheltered and extra care housing as a key solution to provide regular support and stop problems escalating, supporting people at home and out of hospital. Almost all agreed that specialist accommodation designed for people with dementia in their local areas would make a difference. They also call for new homes to be built to accessibility standards which allow for wheelchairs, ramps and stairlifts as people's needs change. The report also references a Housing LIN guide to extra care housing.