Sanctuary Group provides social housing, care, management, supported housing and retirement living services across England.
Its supported housing and retirement living services help people with a variety of needs to live as independently as possible.
Rose Manor
Transforming lives: Integrated housing with care for older people and adults with learning difficulties
Set in the vibrant new community of Ketley Millennium Village, near Telford in the West Midlands, Rose Manor is a new purpose-built retirement living development offering a selection of apartments for over 55s.
Designed by Brewster Bye architects, the cutting-edge development is a partnership between Telford and Wrekin Borough Council, English Partnerships, and housebuilder, Taylor Wimpey.
Completed in April 2015, the Sanctuary Retirement Living development offers residents 86 apartments specifically for the over-55s, comprising of 69 flats for affordable rent and 17 flats for shared ownership. Sanctuary Supported Living also operates the neighbouring Oleander House supported housing service, which offers a further 12 one-bedroom apartments.
Facilitating independent living
Designed to offer comfort, independence and peace of mind, Rose Manor has a dedicated care and support team on-site, enabling residents to enjoy independent living.
Residents are treated to light and airy apartments with high quality kitchen and bathroom fittings and generous storage. Associated communal facilities including a shop, restaurant, café, communal lounge, gym and health suite, accompany a rounded and accessible, 24-hour care programme that caters for various levels of care adjusted to the needs of residents.
Adjacent to the building is Sanctuary Supported Living's Oleander House, a development supporting adults with learning disabilities. Residents have access to their own communal lounge and office space, but are welcome to make full use of the facilities at Rose Manor. Oleander House is positioned for ease of accessibility to Rose Manor and has its own secure and private garden.
Operations Director, Sanctuary Supported Living, Sara Keetley said: "By having Rose Manor and Oleander House so closely located, we've managed to build a sense of community, acceptance and openness across generations within the wider development.
"By encouraging our residents with learning disabilities to make use of the facilities at Rose Manor, we can afford them the same sense of independence and quality of life enjoyed by older residents at the retirement living scheme itself."
Design with the community in mind
Architects Brewster Bye drafted plans to address the twin purposes of providing housing and communal facilities for resident groups, while also providing a civic presence. Therefore, the main building presents a strong frontage to the public square with communal facilities at ground floor level, such as a café and fitness room, amongst other facilities to establish healthy dialogue between the building and the public.
The building's 'H' form creates space for two external courtyards, one for parking and the other a sensory garden - in other areas some residents have access to garden flats and a shared allotment area. The quality of internal space and finish wouldn't go amiss in a luxury hotel, denouncing the traditional image of outdated housing for older people. Providing a sense of warmth and class, the atrium space is finished with high-quality timber, contrasting with the contemporary glass and steel balustrades. The high-end construction of these communal areas means they are well-used by residents.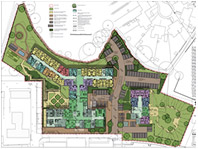 Developed on a former brownfield site, the scheme has achieved a BREEAM multi-residential rating of 'very good' with high energy efficiency due to the use of a mechanical ventilation with heat recovery system and a highly insulated and airtight building fabric. As well as funding an ecology area within the Telford Millenium Community (TMC), the building also contributes to the sustainability of the local community by providing greatly needed accommodation for older people.
Delivering care
Rose Manor and Oleander House present site-specific, high quality, contemporary care facilities drafted via detailed consultation and collaborative work. This has resulted in dedicated housing for both older people and adults with learning difficulties, and a much-needed community resource.
Residents of the schemes possess a local connection and their wide spectrum of care needs and levels of independence are supported by round the clock on-site staff presence, enabling residents to enjoy their own home and way of life.
All the apartments are designed to comply with Lifetime Home standards and the required elements of the wheelchair housing design guide, as well as the then HCA's Design and Quality Standards.
"I like living at Oleander House, the staff are kind. When I am feeling well, I enjoy going to Rose Manor for a coffee and a chat; it's close enough for me to be able to manage."
"I am more than happy to share the facilities at Rose Manor with the residents at Oleander House - it gives me a great opportunity to meet different people, and to form relationships with them"