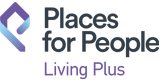 Places for People Living Plus is part of Places for People, an affordable homes-led placemaker which owns or manages more than 219,000 homes across the UK. Living Plus are Places for People's specialist supported living provider and they offer homeless people, including refugees, families and people with complex needs, a safe place to live.
The support they give helps to improve the confidence and peace of mind vulnerable people need to live more independently and play a positive role in their community.
They build new homes, buy and convert existing ones, work with commissioning agencies, specialist care partners and external investors to create tailored services, and pull off award-winning initiatives, to help put people back on their feet.
Jubilee Place, Wisbech
Our most recent inspirational achievement is an innovative modular living project, Jubilee Place, named in honour of Her Majesty The Queen, who became the first British Monarch to celebrate a Platinum Jubilee, marking 70 years of service to the people of the United Kingdom, the Realms and the Commonwealth.
The development was completed in March 2022 and will provide homes to 6 individuals at risk of rough sleeping.
Features
The frames of the energy efficient properties are are accredited by the British Board of Agrement and are BBA Agrément Certified. This is a mark of excellence based on rigorous national and European standards that validate a construction product's specialist formulation, capability and uniqueness and ensures the properties meet key elements of British Building Regulations (England and Wales).
Further benefits will then come from the final fit out of the homes, which will, with the external landscaping, be undertaken by Wisbech based charity, The Ferry Project. The charity gives people the skills they need to enable them to live independently; employees at the centre will learn new skills as they upcycle furniture for Jubilee Place.
Funding
The project received a £216k matched funding grant from the Department for Levelling Up, Housing and Communities following Places for People Living Plus' successful application to the government's Rough Sleeping Accommodation Programme (RSAP) – a £433m programme which aims to deliver up to 6,000 units of supported move-on accommodation for rough sleepers over the course of the current parliament.
Partnerships
Places for People Living Plus worked in partnership with Fenland District Council, charities Allia, The Ferry Project, and New Meaning Foundation – a local social enterprise which employs ex-homeless people to create homes using Modern Methods of Construction (MMC). Their efforts not only support people in need of accommodation, but the construction process will also engage and provide employment to people who have previously been homeless.
Allia provided a comprehensive project delivery service coordinating the planning process, procurement of the housing units and site preparation, based on the experience of delivering a similar scheme in Cambridge in 2020 which has proven popular and successful for former rough sleepers.
The Ferry Project will deliver on site support to the residents of the modular homes. They have been established for around 20 years as a social enterprise and registered charity that helps homeless people in Fenland. With a focus not only to provide accommodation, but to give people the skills they need to enable them to live independently.
They provide up to fifty bed spaces already in Wisbech and engage with over three hundred clients per year and are the largest provider for homelessness-related issues in the district, engaging with an estimated eighty percent of those who find themselves homeless in Fenland.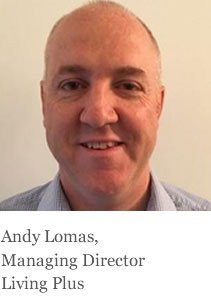 Andy Lomas, Managing Director Living Plus, explained:

"We are fortunate to be working in collaboration with brilliant, likeminded partners who share a collective commitment to tackling the cycle of homelessness – not just creating homes for those currently living on the streets but helping those who are at risk or have previously been homeless by engaging them in the construction process.

Located at Mill Close, the 'Jubilee Place' development is a great example of the power of partnership; the local authority's priority in addressing homelessness and land availability, plus the use of MMC which has allowed us to meet the timings set by RSAP.

I am thrilled that we are now well on the way to making this development a reality and hope that we can generate a successful blueprint for other councils as they too address homelessness."
Case Study

Wellbeing and Social Prescribing

From the perspective of Richard Lynch, Wellbeing Coordinator at Places for People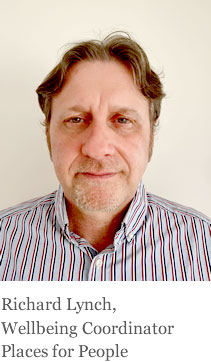 I have been supporting a customer who is a victim of domestic abuse and had to flee to a safe house. She has had to deal with her mother passing away and has mobility issues due to a long-term illness which is very painful, she was also left with over £35,000 debt.
When I first started supporting her it was very difficult for her to engage with any support, she was in deep depression and slept most of the day, sometimes staying in bed day and night, she was always exhausted and had no energy. She had brain fog and could not remember things, the smallest tasks such as writing a telephone number down and remembering to phone someone were impossible to do. She struggled with everyday things such as bathing and never went out of her property.
When I began to support her, a referral was made to Adult Social Services. Many of our conversations were difficult due to her depression, tiredness and brain fog, but gradually her levels of energy and motivation increased and she started to engage. She contacted her debtors and an appointment was booked with a debt advisor and mental health support was put in place. Each tiny forward step she made began to unravel her complex circumstances.
5 months later she has received debt and benefit support and her mental health has vastly improved due to this. She has attended counselling sessions and social activities. Adult Social Care have agreed to deep clean the property and make adaptions to her bathrooms and stairs, carers will also be supporting her daily.
One day I phoned her and she told me how she would love to get out and about more but needed a wheelchair to go further. I told her that the British Red Cross could provide a wheelchair, so together we looked at the website and I encouraged her to phone them. I contacted her 2 weeks later, she said she now had a wheelchair and had been out several times with her family to a shopping centre and for tea and cake. She has really enjoyed going out for the first time in years, she said it had been very uplifting for her mental health. I asked her how she felt on a scale of 1 to 10, 10 being very good, she told me she felt like a 7.5, when I first spoke to her she said she was 0.
How she felt before support was first put in place;
She thought that no one could help her.

"I am just waiting to die."
"I've just given up."
"I don't know what a good day is."

How she feels since support was put in place;

"A cloud has lifted."
"I have hope."
"There is light at the end of the tunnel."
"I could have not done this without the support that was given."

She wished she had known about the service a long time ago.
Our chats gave her the get-up-and-go to engage with other organisations one by one, building up self-confidence.
Social Prescribing, is a non-medical person centred approach that comprises of many elements, some are listed below;
Solution-focused; focus attention on solution building (instead of problem fixing)
Support from next door rather than advice from on high.
Listening with nonjudgmental ears
Drawing out an individual's assets and strengths.
Setting achievable goals.
Creating conversations of possibility and hope to facilitate change.
Giving people a sense of self agency and confidence so that they can take ownership of their lives and play a positive role within it.
Giving people hope for their future and a belief in their own ability to shape it.