Pozzoni's reputation is built on strong values: agility, acumen and ambition. We always aim to exceed our clients' expectations but first and foremost we will listen, and the result is architecture that is a personal, bespoke response to every brief.
Pencric
Penkridge, Staffordshire
This inspirational achievement describes the latest Pozzoni designed scheme: Pencric, Housing Plus' latest flagship extra care scheme in the heart of Staffordshire incorporating some ambitious facilities and innovative apartment layouts.
Introduction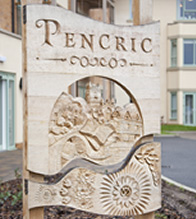 Pencric extra care housing scheme is the latest flagship development from Housing Plus to provide a new way of living for South Staffordshire's ageing population.
Award winning and designed by Pozzoni Architects Ltd, this purpose built scheme creates 82 one and two bedroom apartments for sale, rent and shared ownership. With spacious rooms and modern interiors, each apartment has been designed with care and to a high specification; offering comfort and independence - whatever the individual's life circumstances.
As well as providing bespoke residential care and a 24 hour on-site care service, Pencric also houses a range of facilities for both residents and the wider community. These include spaces for social and leisure use such as a restaurant, hairdressers, beauticians and gymnasium, and also educational opportunities aimed at fulfilling residents' ambitions.
Located in the heart of Penkridge, Pencric replaces the Silverdene Care Home which had become outdated and was demolished in 2010. A replacement scheme was rallied into being by the local community and Pencric is now a firmly established part of that community: fully designed and equipped to provide for modern, senior living.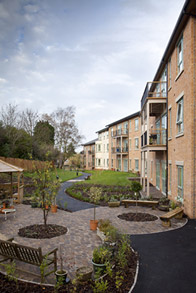 In touch with nature
The building is unified by the landscaped gardens that wrap around the scheme. The mature trees on the banks were retained as part of the design because of their ecological and aesthetic value. These provide a screen for the building and help the scheme belong to its context. A pond, wildflower meadow areas, fruit trees and an area of raised beds, with a potting shed for accessible gardening, have been incorporated into the landscape design. These features have helped not only to improve the biodiversity of the site but provide a welcome 'green space' for the residents to enjoy whatever the season.
"in the past two years I've had two falls. I fractured my back in five places and can't walk unaided. Since my accident I found I couldn't get out and about so found it very lonely.

I'm enjoying having more company, more activities going on around me, and the peace of mind of knowing help is available on site."
Celebrating success
The scheme has been a great success. It won the CIH Midlands award for Development of the Year and a prestigious Pinders Award for Best Care Complex.
A key challenge today for the housing and care sectors is balancing the need to create homes for the people who live there with the commercial realities of operations, timescales, budgets and capital costs. Pencric is an example of how, through design, Pozzoni can help successfully achieve this balance.
For more Pozzoni resources available on the Housing LIN website, check out:
#InspirationalAchievement (opens new window)