Quattro's strapline is 'collaborative culture, sustainable buildings' and this philosophy is borne out by our wide client base and in the range of housing and care projects that we design in the right sizing home market.
Dora Matthews House
Coleford, Forest of Dean, Gloucestershire
This inspirational achievement describes Dora Matthews House, extra care housing with a focus on living well with dementia, designed by Quattro for Rooftop Housing.
Introduction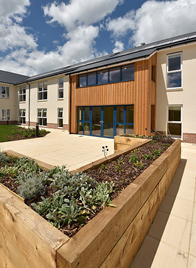 An innovative joint project between Rooftop Housing Group. Heritage Care and Forest of Dean DC.
Shortlisted for the prestigious 2016 Housing Innovation Awards in the category of 'Most Innovative Affordable Housing Scheme', the scheme offers 45 one and two bedroom apartments for older people with a care need and is designed to support those living with dementia.
At the rear of the site 5 two bed chalet bungalows for Adults with Learning Disabilities complement the main use and those residents may take up associated job opportunities.
The site is steeply sloping in a prominent location in the town. The main building is arranged over 3 stories around a private courtyard and the apartments are well proportioned with views over the town and across the internal street. Residents also have access to a communal lounge, cinema room, reminiscence room, and activities room. A guest en-suite bedroom is available to visitors to use for a small charge.
This is the largest development in Coleford for several years and planning was sensitive. It is adjacent to Listed buildings, has some archaeological interest and there are several mature trees. The design responds to a local aesthetic with gabled intersecting blocks under pitched roofs.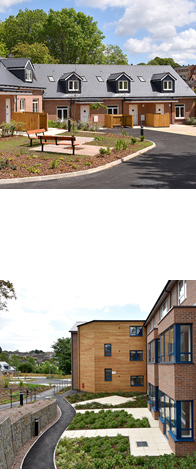 Promoting Independent Living
The Coleford Area Partnership had identified that with the demise of on-site wardens in sheltered schemes many local people were receiving one to one 'Care in the Community', a very expensive way of providing help to those in need. The alternative of a Care Home could not address the needs of a couple.
Dora Matthews House is a superb example of high quality housing with care which provides choice, independence and dignity for all residents. Furthermore it caters for couples where at least one person requires care, either from their partner or a care provider, a vital aspect for extending and improving people's lives in their later years. This provision has also given local residents the confidence to release their current accommodation onto the open market which, in turn, is helping others to climb on the property ladder.
A key part of the development is a wellbeing centre and 'Sixteen' the community café which is situated on the street frontage, linked to the accommodation by an enclosed bridge sheltering a public courtyard with outdoor seating. This focal point for residents is where they can always go to socialise and meet friends be it in the café, activities centre or laundry.
"I love it here and I want to live here for the rest of my life."
"Dora Matthews House is the best place I've ever worked, it's filled me full of satisfaction."
Toolkit
For more Quattro resources on the Housing LIN website check out:
Housing LIN Viewpoint: Facing the future with Dementia: designing buildings that will be adaptable
Housing LIN Case Study: Beeches Manor Wokingham: a template for dementia housing with care
Housing LIN Viewpoint; getting off the ground: Bungalow living- an attractive alternative for downsizers?



And for other examples of Quattro projects in the housing and care sector:
www.quattrodesign.co.uk (opens new window)
#InspirationalAchievement (opens new window)