Golden Lane Housing Limited (GLH) is one of the country's leading supported housing landlords for people with a learning disability. They provide high quality housing across England, Wales and Northern Ireland that is tailored to meet a person's specific needs. They work in partnership with more than 150 support providers to ensure people have access to the support they need to live independently both in their home and community.
www.glh.org.uk (opens new window)
Cordage View, Grimsby
Our most recent inspirational achievement is an innovative and resilient project, Cordage View.
Cordage View is a new build apartment block on the corner of Eleanor Street and Convamore Road in Grimsby and it is leased to Golden Lane Housing (GLH). It won the Best Partnership award during the 2021 Inside Housing Development Awards.
The development was completed in February 2021 and is now home to 15 tenants with a learning disability. The project received a £650,000 Department of Health grant which enabled installation of technology to support independent living, meaning there are resources in place which can meet additional needs individual tenants may have.
'Cordage View'
The name 'Cordage View' pays homage to the Lincolnshire coastal town's former twine and net-making mill nearby. Local construction firm J C Pomfret Construction Ltd. were responsible for the build and used local labour to complete the project. The firm also worked with a national recruitment agency, Orchard Training & Education Ltd, to provide apprenticeship opportunities to local youngsters. They carried out work experience as part of their "Construction Traineeship" programme with nine learners, facilitating experience on a construction site and added learning & development opportunities; five of who progressed to apprenticeships.
Partnerships
The council's regeneration partner, ENGIE also helped to oversee the project, offering technical advice throughout.
Other partners involved, include:
North East Lincolnshire Council, the commissioning authority
EQUANS, the facilities management firm
Living Ambitions, part of Lifeways Group, support provider and the UK's largest team of professionals supporting vulnerable adults in the community
NHS services
Abdul Latif, director of development at Golden Lane Housing, said:

"We are proud that Cordage View has been recognised nationally. The project is a brilliant example of how collaboration between partners and innovative thinking can provide accessible and high-quality housing solutions for people with learning disabilities.

At GLH, our mission is to help people with a learning disability find a quality home around which they can build their lives, and so being able to work alongside partners who believe in this as much as we do, has been fantastic. All of the hard work has paid off, as most importantly, 15 tenants have settled into living in the apartments, and they are all happy with their homes"
Key features include:
15 x one bed apartments, offering independent living opportunities to meet the area's adult social care needs.
Secure fob-entry doors and gates with video calling capability.
The building is 'futureproofed' to enable easy apartment and wheelchair access in all flats, wet rooms, tracking concealed in pelmets to support future installation of hoists and other features making the scheme ready for adaptations.
Technology to enable independent living.
An award winning development
Cordage View won the Best Partnership award at the 2021 Inside Housing Development Awards in London. It competed with eight other entries from across the UK. Cordage View was also shortlisted in the Chartered Institute of Housing (CIH) Northern Awards – Working in Partnership award.
The nomination commended the project for its innovative thinking, ability to overcome significant challenges, and incredible partnership working by multiple organisations.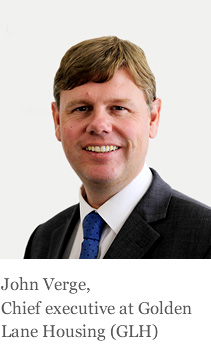 John Verge, chief executive at Golden Lane Housing (GLH), said:

"Cordage View is a great example of how collaboration between partners can produce brilliant results that make a real difference to people's lives.

As Golden Lane Housing continues to grow, we are always seeking opportunities to work with other organisations to develop properties and provide high quality housing solutions that are adapted to the specific individual needs of our tenants. We're looking forward to further partnerships and projects with social care and health authorities to support the new Social Care White Paper's key vision of more supported housing."
And finally