United St. Saviour's Charity has worked to support the people and communities of Southwark for almost 500 years. Uniting the people and charitable organisations in the borough, it tackles social need through a unique grant making programme and helps to build strong, supportive and well-served communities through its sheltered housing for older people across its three almshouses, St Saviour's Court, Hopton's Gardens and its newest development, Appleby Blue. (opens new window)
www.ustsc.org.uk (opens new window)
Appleby Blue, Southwark
Appleby Blue, a newly developed social housing project which reimagines the almshouse concept for modern, inner-city living.
Appleby Blue is named after one of UStSC's original benefactors, Dorothy Appleby. 'Blue' refers to the central marketplace of Bermondsey, rooting the development in its locale and noting the charity's ties to the area going back more than five-hundred years.
The development was completed in May 2023, and provides 57 homes for a total of 63 residents aged 65 or over in Southwark.
Designed by Stirling Prize-winning architects, Witherford Watson Mann, the building provides a blueprint for future adult social housing projects for older persons.
The recent Almshouse Longevity Study (opens new window) found that living in an almshouse can boost a resident's lifespan by as much as two and a half years. Appleby Blue represents a progressive evolution of this typology - it flips the conventional model of the almshouse as a retreat from society, built in the outer environs as an inward-looking development, firmly on its head. Located in the heart of Bermondsey with a bus stop right outside and the hustle and bustle of inner-city living, Appleby Blue enables its residents to remain active members of a thriving, intergenerational and diverse London community.
Features
The building is designed to connect residents through its porous nature and welcoming floorplan, cultivating a strong sense of community and reducing loneliness. The 2-5 storey design enables a cascading level of interaction between the surrounding community and the almshouse residents. A luscious roof terrace includes raised beds for growing herbs and vegetables. The detail of the project is impressive, with raised beds created with residents in mind, to enable recreational gardening activities despite varying mobility levels.
The main communal space, the Garden Room, opens on to a planted garden court with a raised water feature running throughout, designed by Grant Associates. It forms the traditional almshouse courtyard style centre of the building, offering a space for residents and visitors to socialise or relax in peace and quiet. The acoustics of the space coupled with the sound of the water feature creates a relaxing, sanctuary-like space for residents and visitors, whilst remaining just a few feet away from the local transport links that keep them connected to the city.
Community
The resident support model for the almshouse is integral to the physical environment and place. The team works closely with the Appleby Blue Centre Manager to create a holistic support plan which encompasses repairs and maintenance, benefits guidance and health and wellbeing. Appleby Blue also offers residents a library area, hobby room and skills room, where events from crochet lessons to digital skills sessions will be hosted for both residents as well as the wider community. The intergenerational use of the building aims to break down the barriers between young and old.
The Appleby Blue community kitchen sits at the heart of the building, as a kitchen should, with United St Saviour's Charity running culinary-based community projects with local organisations to foster intergenerational connectivity in Southwark and provide important upskilling opportunities for young people in the borough.
United St Saviour's is working alongside research partners at Bournemouth University to explore how multigenerational socially inclusive activities can be co-created with older people around food growing, cooking and meal sharing to improve their health, wellbeing and social connectedness.
Funding
Appleby Blue occupies a site previously occupied by a care home, which had fallen into disrepair and was no longer fit for purpose. It is the off-site social housing provision funded by a private residential development 'Triptych', developed by JTRE in neighbouring Bankside. The development has been made possible through a partnership between the freeholders London Borough of Southwark, and UStSC, who lease it and will manage it in perpetuity.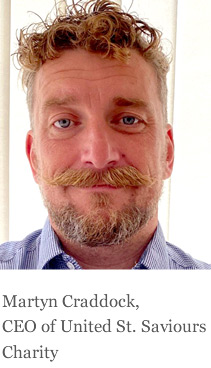 Martyn Craddock, CEO of United St. Saviours Charity said:

"Appleby Blue Almshouse reimagines the historic model of a retreat from society, in favour of direct contact with urban life. The beautiful design of the building coupled with our charity's support services, aims to change the perception of sheltered social housing, and influence future developments for the better. By providing a high quality and well-designed home, older people should be more ready to move from their often unsuitable or under-occupied housing, yet remain in the community where they have lived for many years. The building is designed with social interaction as a core principle and we intended to use this wonderful building to its full potential to continue to transform lives and meet the needs of our older residents."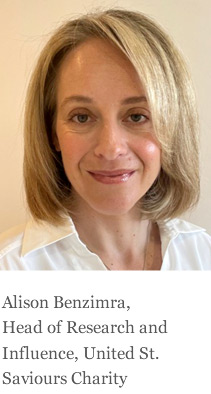 Alison Benzimra, Head of Research and Influence said:

"United St Saviour's Charity will be incorporating all our learnings into our practices. We are journeying with our residents to determine what aspects of the building's physical design, community activities and resident support model impact health and wellbeing in later life. Through collaborations with our trusted research partners, such as Bournemouth University, we aim to share our findings widely so we can positively influence policy and practice both locally and nationally as our ageing population continues to increase. Appleby Blue is a place where people can relax, meet others, and participate in a range of activities that enable both residents and people from the local community to keep fit, healthy and active - a place where residents are firmly at the centre of life around them."