Tetlow King Planning Ltd is a leading town planning and development consultancy operating nationwide with over 30 years' experience advising a range of clients on all types of development, with particular specialisms in housing and care.
Planning for Later Life
Two inspirational examples of planning retirement living that older people want.
The Fairways
Teeing off with The Fairways, Chippenham, with Freeman Retirement Living in partnership with MHA and KWL Architects
Situated close to Chippenham, Wiltshire, The Fairways is a development of a 60 bed care home and 75 purpose-built apartments, overlooking an attractive adjoining golf course.
Come home to a vibrant village community
The Fairways village is a dynamic community of 75 individually crafted custom-built apartments in a number of different styles. There is a choice of one, two and three bedroom apartments, as well as two storey duplexes. All the apartments are arranged around a light and airy atrium.
The lie of the land
This 2.2 hectare site was granted permission for a Continuing Retirement Community in November 2010. Our client was supported by MHA who operate the scheme. The proposal was for a replacement golf clubhouse and the erection of 75 C2 extra care dwellings and a 61 bed care home alongside ancillary communal facilities.
The concept was one large hub building with the care home to the east and the extra care housing units to the west. The extra care units were organised around an unheated glazed atrium.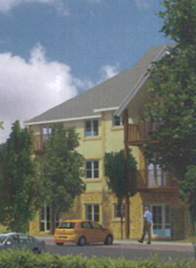 What Tetlow King Planning did...
Submitted the application, organised/instructed all the consultants, provided all the planning material submitted, produced a needs assessment and conducted negotiations with the Council and other bodies.
Organised Community Consultations
Provided a care needs assessment proving there was a substantial unmet need in the area for care accommodation.
Explained the concept of a care community to the planning officers and Councillors and created a situation where we had no dispute of any kind on the C2 use to an extent that when the Committee did approve the application no legal agreement was required to control the use;
Mobilised and enabled the members of the golf club and their families to effectively lobby and make their views known to Parish and LPA Councillors;
We were able through correspondence and meetings to have Wiltshire's Adult Social Care team support the application in very strong terms.
Lynwood Village
Racing ahead: Lynwood Village is an award winning Continuing Care Retirement Community in the heart of Ascot, Berkshire
Lynwood Village is an award-winning retirement village in Sunninghill, near Ascot, one of the most sought-after locations in leafy Berkshire. With beautifully designed homes and superb facilities this warm and welcoming community provides independent living with support you can tailor to suit your needs.
Winner of the 2015 Gold "WHAT HOUSE AWARDS" For Best Retirement Development.
"Overall this is an incredibly well designed community with a great team on hand to help its ageing population thoroughly enjoy retirement. BEN has fully considered the person and the activities that promote wellbeing, making it a deserved winner."
Village people
With over 170 extra care housing apartments, Lynwood Village has been sensitively designed to make daily life easier for over 65s and every aspect of the village has been carefully considered to enhance the physical, emotional and social wellbeing of their residents.
The going is good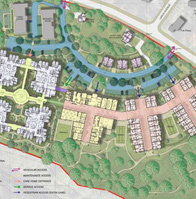 This 7.9 hectare site is located in Royal Borough of Windsor and Maidenhead. Permission and permission was approved in April 2012 for the Continuing Care Retirement Community (CCRC). The BEN Charity occupied the site which had a care home, various cottages, sheltered housing and their charity headquarters in a collection of 1970s buildings.
The proposal included the demolition of existing buildings and replacement with a 93 bed nursing and dementia care home, elderly day care centre, communal facilities, staff accommodation, 171 Extra Care Units in the C2 Use Class for the elderly, replacement national charity headquarters and ancillary service buildings.
What Tetlow King Planning did...
Tetlow King Planning (TKP) submitted the application for redevelopment, organised/instructed all the consultants, provided all the planning material, produced a needs assessment and conducted negotiations with the Council and other bodies. Community Involvement events were also organised.
Produced a needs assessment which combined with our assessment of the failings and inadequacy of the current buildings was able to prove to the Council that very special circumstances did apply.
Negotiated with the Council and Natural England to explain that the entry restrictions and residents would be no threat to the Special Protection Area. Natural England were determined to refuse the application but TKPs knowledge of the care community concept and access to research meant we were able to deal with this.
Negotiated with the Council tree officer that a pending possible Ancient Woodland designation should not be treated as a Ancient Woodland. We advised the team of consultants to make small changes that allowed the planning officer to overrule the tree officer who maintained an objection.
Negotiated a legal agreement that restricted occupancy and addressed the Council's concerns on people coming into the area causing a possible burden on the Council. The agreement also satisfied Natural England on occupancy conditions.
TKP were able to organise a wide and large scale public consultation that was enormously successful in explaining the proposal and receiving support from the Parish Council and various local bodies.