Three new Integrated Care Systems announced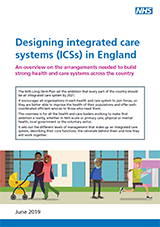 One in three people in England – 21 million – are set to further benefit from improved health and care, with the announcement of three new integrated care systems (ICSs). The North East and North Cumbria will become the country's largest ICS, serving more than three million people alone. South East London becomes the first ICS in the capital, while Buckinghamshire, Oxfordshire and Berkshire West make up the third new area where different health and care organisations work together to plan and join up services.
The NHS Long Term Plan set the ambition for every part of the country to become an integrated care system by 2021. To help turn the ambition into reality, a new publication explores the arrangements needed to build strong health and care systems.