This week's HLINks: 8 - 12 February 2021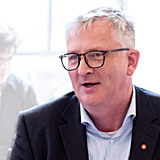 Welcome to #Jeremytalks and my weekly piece to audio to coincide with our must-read weekly bulletin, HLINks, week-ending Friday, 12 February 2021.
In this week's round up, we lead on C&C's new report on the experience of isolation and loneliness amongst their residents under lockdown. The research with 250 of the residents found that one in eight over-55s regularly feel lonely and isolated during COVID-19. We also released an accompanying guest blog by their CEO Julia Ashley that shared her own thoughts and findings from this important research. For more, look out for a HAPPI Hour session on this next month!
In this week's HLINks, you can also take a tour of other news and events on later life housing and independent living with regard to homes and communities, health and social care, design and technology, planning matters and more, including details about the government's latest White Paper on Integrated Care in England. The proposals set out are not ones for the long-awaited social care White Paper (expected later this year) but a package of measures to make integrated care the default position for social care, public health and the NHS. Where's housing I hear you say!
Check these out and register here to keep in touch with all our news alerts and other notifications of your choice, sent direct to your inbox. And remember you can also follow us via our Twitter feeds: @HousingLIN, @HousingLINews and @HLINConsult

Finally, if you would like to talk to us about any matters highlighted in this week's issue, share learning about your work and/or discuss how you can engage our highly regarded consultancy services to assist you, email 'Jeremy talks' at: info@housinglin.org.uk

You can also listen to #Jeremytalks… here

Thanks for listening, stay connected and, above all, be safe during lockdown.

Jeremy
---
In next week's HLINks
And, in next week's news, we look forward to the online launch of the APPG on Housing and Care for Older People Inquiry report, 'Housing and Dementia: Are we ready?' In addition, following the government's recent planning consultation, Tetlow King Planning's John Sneddon kicks off the week with a guest blog on whether there are any implications for housing in later life.
Lastly, the Housing LIN would like to thank Willmott Dixon for their support in producing this newsletter.
Stay home, stay safe and stay connected with the Housing LIN!