This week's HLINks: 4 - 8 January 2021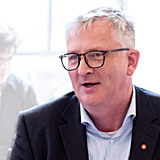 A very Happy New Year to our readers from all of us at the Housing LIN and welcome to #Jeremytalks and my weekly piece to audio to coincide with our must-read weekly bulletin, HLINks, week-ending Friday, 8 January. This is the first issue of 2021.
In case you missed it, on New Year's Eve we released a month-by-month review of 2020 highlighting some of the key resources we were commissioned to write and/or published ourselves last year, along with a selection of activities and events we organised, including our successful virtual December Summit.
This week, we published a guest blog on almshouses to coincide with the report by RICS that came out last month, as featured in our final issue of HLINks in 2020. We are also promoting our first #HAPPIHour of 2021. This takes place on 28 January and will focus on almshouses in a lot more detail. Do join us.
Hot on the heels of our virtual Summit 2020, the Later Life Audio and Radio Cooperative (LLARC) have released their first interview with one of our guest speakers. In #HousingMatters, LLARC talk to Margaret Edwards, the Housing LIN's London chair, about our new CollaborAGE directory and also how she has age-proofed her home.
In this week's HLINks, you can also take tour of our curated round-up of other news and events on later life living with regard to homes and communities, health and social care, design and technology, planning matters and more, including reference to the Health Foundation report on the links between health and housing and the impact of Covid-19.
Check these out and register here to keep in touch with all our news alerts and other notifications of your choice, sent direct to your inbox. And remember you can also follow us via our Twitter feeds: @HousingLIN, @HousingLINews and @HLINConsult

Lastly, if you would like to talk to us about any matters highlighted in this week's issue, share learning about your work and/or discuss how our consultancy services can assist you, email 'Jeremy talks' at: info@housinglin.org.uk.

You can also listen to #Jeremytalks… here

Thanks for listening, stay connected and, above all, be safe during the new lockdown.

Jeremy
---
In next week's HLINks
And in next week's news, we publish a guest blog from Bracknell based Silva Homes and will report on the first TAPPI inquiry session. We were also pleased to be involved in the upcoming The Housing Forum's new report, Older & Wiser. This is being launched next Friday. Register to join the online launch here.
Lastly, the Housing LIN would like to thank Willmott Dixon for their support in producing this newsletter.
Stay connected, stay well and, above all, be safe during this new lockdown.