This week's HLINks: 19 - 23 April 2021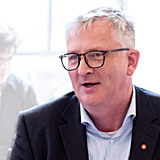 #Jeremytalks (opens new window)

Welcome to #Jeremytalks (opens new window) and our must-read weekly bulletin, HLINks (opens new window), week-ending Friday, 23rd April 2021.

Looking back to this time last year and a few weeks into the COVID-19 pandemic, many housing and care organisations were quickly finding technology to be instrumental in their response to maintaining services and ensuring the wellbeing of customers. This week we announced an important new survey with Appello to help identify the perceptions towards technology within the supported housing and housing with care sector after operating with COVID-19 for over a year. Have your say by 6 May.

In this week's HLINks (opens new window), you can take a tour of other news and events on later life housing and independent living with regard to homes and communities, health and social care, design and technology, planning matters and more. In particular, we draw attention to a few new reports that we think will be of interest. They are: A new guide by Foundations (the national body for HIAs) on carrying out adaptations for children and young people with challenging behaviours; a Parliamentary Select Committee report (opens new window)on health and care in a digital world; a new report by The King's Fund on health and integrated care systems can develop place-based partnerships; and a new blog by Social Care Futures (opens new window) on how we can build public support to transform social care.

And, in case you missed it, next week's HAPPI Hour will be launching and reporting on the findings of a ground-breaking research that studied the impact of COVID-19 on retirement villages and extra care housing schemes across England. Not to be missed! And you may also be interested to learn that following our recent HAPPI Hour on the Archbishops of Canterbury and York housing report, the Archbishops have this week announced a follow up Commission on Reimagining Care.

Check all the latest news and register here (opens new window) to keep in touch with all our alerts and other notifications of your choice, sent direct to your inbox. And remember you can also follow us via our Twitter feeds: @HousingLIN (opens new window), @HousingLINews (opens new window) and @HLINConsult (opens new window)

Finally, if you would like to talk to us about any matters highlighted in this week's issue, share learning about your work and/or discuss how you can engage our highly regarded consultancy services to assist you, email 'Jeremy talks' at: info@housinglin.org.uk (opens new window)

You can also listen to #Jeremytalks… here (opens new window)

Stay connected and, above all, with lockdown easing, stay safe.

Jeremy
---
In next week's HLINks
Next week we look forward to the publication of ground-breaking research funded by the Dunhill Medical Trust into the impact of COVID-19 last year on retirement villages and extra care housing. Undertaken by St Monica Trust in partnership with the Housing LIN, the RE-COV Survey findings make important reading for the sector. We will be hosting a HAPPI Hour presenting the findings on Thursday, 29 April.
In addition, ADASS will be releasing a new briefing on the future of data-driven social care, 'How can we harness information to care more proactively?
The Housing LIN would like to thank Willmott Dixon for their support in producing this newsletter.
Stay safe and remain connected with the Housing LIN!