This week's HLINks: 18 – 22 July 2022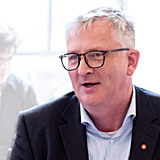 Welcome to #Jeremytalks (opens new window) and this week's sector news from the Housing LIN.
We are delighted to report that the Housing LIN has become a signatory to the Design Commission for Wales' Placemaking Wales Charter (opens new window). With our commitment to the HAPPI design principles, we firmly support the Charter's 6 core components and the inclusive approach to placemaking, including creating age-friendly homes and communities.
In other news, 11 HAPPI-inspires projects have been shortlisted for this year's Housing Design Awards (opens new window). The submissions include a selection of extra care housing, retirement villages, almshouse provision and cohousing. The Housing LIN is proud to be a sponsors of these awards and the quality of the shortlisted schemes demonstrate how HAPPI has become a mainstay of these awards with winners to be announced in September.
And following the announcement of the TAPPI2 coproduction lead last month, with permission for Inside Housing, we release a blog by Coproduction Works' Jolie Goodman in which she looks at how social landlords can go about making consumer regulation changes.
What else caught my interest?
Keep up-to-date with the latest on housing and care matters and register here to receive other notifications of your choice, sent direct to your inbox.
If you would like to talk to us about any matters highlighted in this week's issue, share learning about your work and/or discuss how you can engage our highly regarded consultancy services to support you, please get in contact.
Stay connected and, above all, remain safe.
Jeremy Porteus
---
The Housing LIN would like to thank Willmott Dixon for their support in producing this newsletter.