This week's HLINKs: 22 - 26 November 2021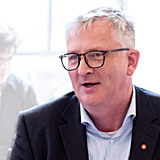 Welcome to #Jeremytalks (opens new window) and our must-read weekly bulletin, HLINks (opens new window), week-ending Friday, 26 November 2021.

With one week to go, we are gearing up to the Housing LIN's 2021 virtual Summit - A Festival of Ideas. The week-long programme of webinars begins on Monday, 6 December and we have 11 great sessions over 5 days to grab your interest.
The Summit is extremely timely as we are expecting the Department of Health and Social Care's Adult Social Care White Paper to be published imminently. It is expected that it will make reference to the importance of good quality new housing, the adaptation of existing homes and the greater use of technology to support personalised care at home. We are hoping it will also set out a wider strategic vision backed by related funding proposals to support sector transformation.
We look forward to highlighting the sector's response to the White Paper during Summit week. In the meantime, sign up to a wide-ranging selection of sessions.
And other news, views and resources that caught my interest this week include:
Keep up-to-date with the latest on housing and care matters and register here (opens new window) to receive other notifications of your choice, sent direct to your inbox. And remember you can also follow us via our Twitter feeds: @HousingLIN (opens new window), @HLINComms (opens new window) and @HLINConsult (opens new window).

If you would like to talk to us about any matters highlighted in this week's issue, share learning about your work and/or discuss how you can engage our highly regarded consultancy services (opens new window) to support you, email 'Jeremy talks' at: info@housinglin.org.uk (opens new window)

Stay connected and, above all, remain safe.

Jeremy