Research project published today highlights how housing-with-care sector's response to coronavirus pandemic "safeguarded lives" of residents and staff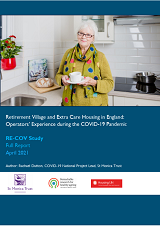 Ground-breaking research into the impact of COVID-19 last year on retirement villages and extra care housing published today. Undertaken by St Monica Trust in partnership with the Housing LIN and funded by the Dunhill Medical Trust, the RE-COV Study findings make essential reading for the sector.
Find out how the sector mobilised quickly to limit the spread of infection, significantly reducing the risk of COVID-19 related deaths in their schemes last year. The study also highlights the favourable experience of many residents living in Retirement Villages and Extra Care Housing during the pandemic, especially when much of the spotlight was on the crisis in care homes at that time.
Positive outcomes for retirement village and extra care housing residents included high levels of feeling safe, supported, and comforted knowing other people were around, plus enjoyment from organised outdoor activities.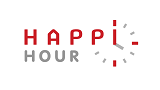 Learn more at this afternoon's HAPPI Hour launch webinar where we will be joined by researchers at St Monica Trust, RE-COV advisory board members and a resident from ExtraCare Charitable Trust.