Public Health Scotland publishes briefing paper on how housing can influence health and wellbeing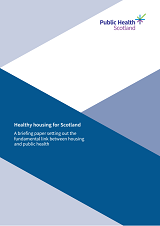 Healthy Housing for Scotland, a briefing paper setting out evidence on how housing can influence health and wellbeing, has been published by Public Health Scotland in an aim to assist the Scottish Government with policy developments associated with its Housing to 2040 strategy.
It prioritises evidence based on:
Affordability
Accessibility
Quality and conditions
Low carbon, energy efficiency and climate resilience
Marginalised communities
Homelessness and health
Mental health
Place and communities
The paper also aims to support public health colleagues who work locally, regionally and nationally with housing colleagues in the process of designing, implementing and evaluating policy decisions. This is because adequate housing which is safe, accessible, available, appropriate and high quality is key to us achieving the highest attainable standard of health.