New report reveals how to enable social landlords to support residents who smoke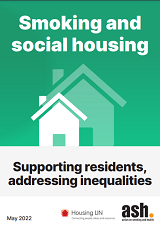 New research, conducted in collaboration between Action on Smoking and Health (ASH) and the Housing Learning and Improvement Network (LIN), outlines the case for reducing rates of smoking in the social housing sector as part of social landlords' health and wellbeing activity and the action needed to achieve this.
It aims to equip the public health and social housing sectors with the information required to progress action on smoking and improve the support available to people who smoke and live in social housing. The report also identifies improvements that could be made at a national level to better support local action.