New Housing LIN Viewpoint examines loneliness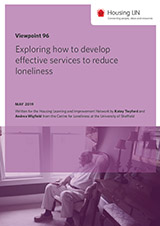 Our newest Viewpoint, by Katey Twyford, examines the ways in which services can help to reduce loneliness among older people.
In recent months the Housing LIN has published a number of Blogs that consider different aspects of loneliness including how housing with care schemes are well placed to reduce unwanted isolation and how bringing generations together can benefit both in bridging the loneliness gap.
Housing LIN Viewpoint 96 explores best practice in developing effective services to reduce loneliness and provides six top tips for setting up new services.