LINks - the Housing LIN's essential weekly bulletin (w/c 29 Feb)
Welcome to LINks, the weekly e-bulletin from the Housing LIN (Learning and Improvement Network) where we round up a selection of latest information, resources and events under the spotlight. In this issue, we draw your attention to the following:
NEW HOUSING LIN VIEWPOINT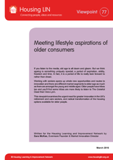 This viewpoint by Sara McKee at Evermore examines the urgent need for greater innovation in the UK's retirement and care sectors, and radical transformation of the housing options available for older people. She states that if you listen to the media, old age is all doom and gloom. But we think ageing is something uniquely special; a period of aspiration, ability, freedom and time. In fact, it is a period of life to really look forward to rather than dread. Working with seniors opens up whole new opportunities and routes to innovation and there are different market segments to older age as much as there are amongst the young and middle aged. Older people have tribes too and you'll find some tribes are more likely to listen to The Grateful Dead than Vera Lynn.
---
---
---
FUNDING, POLICY AND PRACTICE
The HCA have published an online guide which consolidates the rules and procedures for all providers delivering affordable housing through one of its affordable homes programmes, including the Care and Support Specialised Housing Fund.
USFUL TOOLS AND REPORTS
---
OTHER VIEWS, NEWS AND RESOURCES
Last month Jeremy joined fellow Jury members in Delft, Holland, to judge the EFL/ ARA Student Design Competition on what will accessible housing for older people look like in 2060. Over 30 entries were received and the finalist will be presented at a European conference in Helsinki in May this year.
---
TELECARE LIN
FORTHCOMING EVENTS SUPPORTED BY THE HOUSING LIN
Helping people home from hospital through better use of care at home
The remaining free event taking place on Thursday next week in London. To book your place, email england.careathome@nhs.net with your name, choice of date, name and job title.
LGA Housing Commission events

As reported in our weekly bulletin on 17 December, the Local Government Association has launched a Housing Commission to explore new routes to house building so councils can enable the building of more desperately-needed homes. One of the areas of interest is health and quality of life for an ageing population - the role of housing in adapting to an ageing population and preventing onward costs onto social care and health services. To aid the work of the Commission, the LGA are holding 2 final information gathering seminars on:
Employment - 16 March in London
Health and ageing - 27 April in Aylesbury
Register your interest at: LGAhousingcommission@local.gov.uk And to find out more about the Commission, go to: http://www.local.gov.uk/housing/-/journal_content/56/10180/7570944?_56_INSTANCE_0000_templateId=ARTICLE (opens new window)
Open Space: People Space Conference, 'Mobility, Mood and Place: Habitats for Happy and Healthy Ageing'. Edinburgh on 11th - 14th October 2016.
www.mobilitymoodplace.ac.uk/conference (opens new window)
The organisers are now inviting abstracts to present on one of the following four themes:
Theme 1: Healthy, happy and active ageing
Theme 2: Co-designing the built environment with mobility in mind
Theme 3: Experiencing mobility
Theme 4: Health, mobility and place through the lifecourse
Submit by 31st March 2016.
---
---
---
AND FINALLY, PLEASE NOTE THERE WILL NOT BE A WEEKLY BULLETIN NEXT WEEK AS WE WILL BE FOCUSSING OUR ATTENTION ON OUR ANNUAL CONFERENCE. FOLLOW THE EVENT ON TWITTER AT #HLINconf2016 and @HousingLIN
Stay connected with the Housing LIN for latest news, views and resources on housing with care matters