LINks - latest Housing LIN bulletin
Happy New Year and welcome to 'LINks', the weekly email bulletin from the Housing Learning and Improvement Network (LIN). This is our first edition of 2015 and we look forward to keeping you connected with latest information, resources and events this coming year.
New Housing LIN Scotland webpages
The Housing LIN has over 1450 members in Scotland and to improve the way we support their learning and improvement needs we have created a dedicated section on our website that captures a number of Scottish policy documents, research findings, tools and good practice on specialist housing for older people in Scotland. More at: www.housinglin.org.uk/HousingRegions/Scotland
There is also a noticeboard for our Scottish members to post specific questions and/or share information on housing with care matters. If there are any relevant resources missing that you think we should upload, email details to: Scotland@housinglin.org.uk
And finally, to find out about the current range of specialist housing for older people in Scotland, visit the Housing with Care Locator
We hope that find these new pages of interest. Let us know what you think.
---
New Housing LIN Wales case study - modernising sheltered housing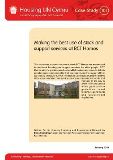 This case study, Making the best use of stock and support services at RCT Homes, explores the way in which Rhondda Cynon Taf (RCT) Homes has modernised its sheltered housing and support services for older people.
RCT Homes aims to provide excellent quality housing and services to help people remain independent in their own homes and live as part of their community. Since 2010, RCT Homes has carried out extensive reviews of its accommodation and services to ensure improvement works and changes to the way in which it delivers support follow good practice guidelines, meet funding requirements and government regulations. Read at: www.housinglin.org.uk/RCTHomes_CaseStudy
---
Welsh Housing Research Network e-briefing
Staying in Wales, the Welsh Housing Research Network produce a useful quarterly briefing containing helpful summaries and information on recent and planned research relating to housing in Wales.
We have uploaded this on the Housing LIN Cymru's research and good practice portal at: www.housinglin.org.uk/HousingRegions/Wales/Research-and-good-practice/?&msg=0&parent=9033&child=9441
---
Switched on by Telecare?
Published towards the end of last month, the latest edition of the ever popular Telecare LIN monthly newsletter and supplements can be found at: www.telecarelin.org.uk/TelecareResources/TelecareResourceTypes/TelecareResource/?coid=8149
---
Have your say on Technology Enabled Housing with Care
In partnership with Tunstall Healthcare, we would also like your opinions on the future of housing with care, with a specific focus on the use of technology and how you may use it to support your ambitions delivering at home care and support.
Follow the link to complete this short online survey: www.surveymonkey.com/s/HJDS2BM
The survey covers three specific areas - your challenges, barriers to adoption, and ways to overcome the barriers.
We would appreciate your feedback by Friday 23 January and the summary results will form part of a new report, supported by Tunstall Healthcare, which will be launched at the Housing LIN's annual conference on 17 February 2015. Thank you very much for your valued feedback.
---
Extra Care Housing - What is it?
We have been asked to update the Housing LIN Factsheet No1 - 'Extra Care Housing - What is it?' This can be viewed at: www.housinglin.org.uk/Topics/browse/HousingExtraCare/ExtraCareStrategy/WhatIsExtraCare/?&msg=0&parent=3660&child=1633
We know that people from a range of very different audiences read this Factsheet as a starter to finding out the basics about extra care as a concept. We are also aware that a lot has changed since we last updated this Factsheet in 2008, including the ending of Supporting People as an identifiable funding pot, the increasing recognition of the need for housing based models for people with dementia, squeezing of both capital and revenue funding, and the growth of private sector and mixed tenure models. So, before we update it we want to ask Housing LIN members for YOUR VIEWS on:
Firstly, the most important things to pin down about extra care today that we should include in the Factsheet
Secondly, the audiences that we need to address the Factsheet at; and
Thirdly, any specific scheme examples you think we should include, with some basic information about the scheme and why we should include it (e.g. design and service model for people with dementia; wider community support role; capital/revenue funding model; tenure mix) as well as your contact details so we can follow it up with you
Please email your responses by Friday 23 January to info@peterfletcherassociates.co.uk
---
First Steps Challenge Fund for London
The Mayor of London has launched a new fund to help Londoners on low and modest incomes to buy or rent their own home in the capital. With an emphasis on shared ownership, the First Steps Challenge Fund sets out to give Londoners a chance to get a step on the housing ladder rather than renting privately or buying a property on the open market. For details, go to: www.london.gov.uk/media/mayor-press-releases/2015/01/mayor-delivers-220-million-funding-boost-for-low-cost-homes-to
Note: The Fund is not directly targeted at older Londoners. However, the First Steps' website states that they are committed to the promotion of all types of accessible housing in London. More at: www.sharetobuy.com/firststeps
---
Housing LIN annual conference, 17 February 2015 - London
Not to be missed!
An email detailing the registration process to attend our annual conference will be sent to all our members next Monday evening.
As previous years, this event is free and registrations will be taken on a first-come, first-served basis.
Please note that last year all 300 places went within 6 hours! It is therefore advisable that you register as soon as possible after bookings are open to avoid disappointment.