Housing LIN publishes new Community-Led Development guide.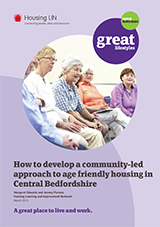 The Housing LIN has produced a new guide for Central Bedforshire Council showing how community-led development can be used to address the need for specialist housing for older people.
'How to Develop a Community-Led Approach to Age Friendly Housing Central Bedfordshire' was commissioned by Central Bedfordshire Council and written by the Housing LIN, and is divided into two parts.
Part One sets the scene and provides a range of useful background information on the main characteristics of living in Central Bedfordshire in later life.
Part Two describes different community-led housing approaches and offers practical tips and examples that can help inspire local residents to shape the future provision of housing that meets their needs and aspirations underpinned by the HAPPI principles.
The Housing LIN's Chief Executive, Jeremy Porteus, stated:
"Community-led development is going to play an ever-increasing role in the provision of housing for older people in the UK. The Housing LIN are proud to be leading the conversation and showing the 'art of the possible' in relation to community-led housing for an ageing population. It's more than HAPPI-stance. It's about giving greater voice to achieve more choice."
Councillor Eugene Ghent, Council Executive Member for Assets & Housing Delivery, said of the report:
"There has never been a better time to harness the interest and contribution of local residents to develop housing that meets the changing needs of our population and respects the uniqueness of each town, village and hamlet."