Housing LIN publishes new Case Study looking at almshouses for homeless people.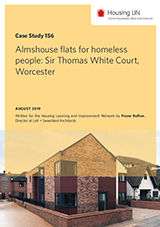 Following a presentation on the Almshouse Flats for Homeless People project at our recent Housing LIN Midlands regional meeting, Housing LIN Case Study 156 by Frazer Bufton outlines the architectural qualities of the award winning scheme in Worcester.
The case study features key learning points from the project and will be of interest to anyone involved in the planning and design of specialist housing.
The original presentation can be found on the Housing LIN Midlands regional meeting event page.