Housing LIN attends No. 10 hosted Adapting with Age round table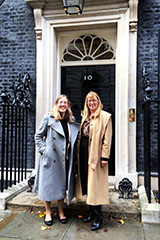 On Wednesday 7th November, the Housing LIN, represented by Clare Skidmore (seen here outside No. 10, left), was honoured to be invited to No. 10 Downing Street, to hear an exciting presentation by the Adapting with Age team, a group of social entrepreneurs from the National Housing Federation (NHF), sharing some of the ideas and insights which have emerged from the NHF's groundbreaking 'Greenhouse' initiative.
Reflecting on the ageist attitudes which influence the clinical appearance of many of the aids and adaptations designed for the use of people in later life, the Adapting with Age team asked the question: 'Why are our choices diminished the older we get?' They outlined their response, which has been to collaborate with designers and manufacturers to create a suite of 'modern, invisible' designs, which are attractive, and designed for use by all.
There followed a lively, positive discussion among the delegates, which also included people with expertise in inclusive design, positive ageing, research, the building of homes, and civil servants from the relevant government departments. Support and advice for the ongoing Adapting with Age project was offered from several delegates, as the team moves forward with piloting their solutions, testing delivery and demonstrating value for money.
We look forward to following the Adapting with Age team with interest and reporting on their work.
More updates will be posted on the Housing LIN website as they become available.