Homes England releases its capital funding guide to support the Affordable Housing Programme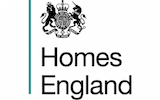 Hot on the heels of the government's plans to 'Build, Build, Build' earlier this week, Homes England has today released its Capital Funding Guide.
The guide makes specific reference to meeting 10% of the Affordable Housing Programme including specific reference in Section Three on Specialist Housing to invest in purpose-designed housing for older people (4 typologies) and purpose-designed housing for disabled and vulnerable households. In addition, with a government push towards shared ownership, there is also reference to Homes England's Older Persons' Shared Ownership scheme.