Government announces group of experts for Older People's Housing Task Force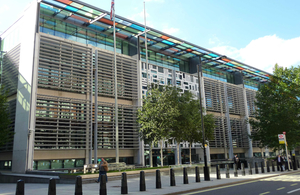 The government has today unveiled the line-up of experts selected to join the year-long Older People's Housing Task Force, led by Professor Julienne Meyer. Our esteemed Chief Executive, Jeremy Porteus, has been appointed as one of the 19 members.
Established jointly by the Department for Levelling Up, Communities and Local Government and the Department of Health and Social Care to 'look at ways better choice, quality and security of housing for older people can be provided, including how to address regional disparities in supply of appropriate and where necessary specialised housing', Jeremy's inclusion in the newly established Task Force brings invaluable expertise and extensive experience in specialised housing and technology for older individuals.
Jeremy Porteus, CEO at Housing LIN, said:
"I am thrilled to have been invited to become a member of this important new Task Force. Its work will be vital in identifying the key levers to stimulate the supply of purpose-built retirement housing for older people. I look forward to drawing on my insights from the HAPPI process and sharing lessons from the TAPPI project to aid the Task Force's work. With the digital switchover by December 2025, we urgently need to ensure that designs of our homes for an ageing population incorporate smart technology-enabled applications right from the outset."
The other members of the Task Force are:
Chair: Professor Julienne Meyer CBE, Professor Emerita of Nursing: Care for Older People; City, University of London
John Galvin, Chief Executive of the Elderly Accommodation Counsel
Caroline Abrahams CBE, Charity Director of Age UK
Nick Sanderson, Chief Executive of Audley Group and Chair of the Associated Retirement Community Operators
Stewart Baseley, Chair of the Home Builders Federation
Geeta Nanda OBE, Chief Executive of Metropolitan Thames Valley Housing
Jon Rouse CBE, City Director of Stoke on Trent City Council
Councillor James Jamieson OBE, Chair of the Local Government Association and a Councillor for Central Bedfordshire
Sarah McClinton, President of the Association of Directors of Adult Social Services and Director of Health & Adult Services at Royal Borough of Greenwich
Kathryn Smith, Chief Executive of the Social Care Institute for Excellence
Sunena Stoneham, Chief Operating Officer of LifeCare Residences Limited
Rt Hon Damian Green MP, Member of Parliament for Ashford and Chair of the All Party Parliamentary Group on Adult Social Care
Professor Les Mayhew, Part-time Professor of Statistics at Bayes Business School
Ben Rosewall, Head of L&G Investment in Later Living
Professor Judith Phillips, Deputy Principal (Research) at the University of Stirling and Professor of Gerontology
Andrew Surgenor, Senior Director (Healthcare) at CBRE
Paavan Popat, Chief Executive of TLC Care
Richard Morton, Managing Director at Richard Morton Architects
For more about the aims and objectives of the Task Force, check out the link below.