Global Intergenerational Awareness Week 2022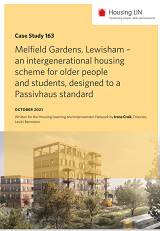 Global Intergenerational Week (opens new window) is a campaign connecting everyone who is passionate about everything intergenerational. It is now in its third year and this year it is bigger and better than ever as it is #GoingGlobal.
Running between Monday 25 April - Sunday 1 May, this campaign looks to inspire individuals, groups, organisations, local/national government and NGO's to fully embrace intergenerational practice, connecting people of all ages especially the younger and older generations.
The campaign celebrates good practice, ideas, moments and opportunities local to us where different age groups come together, and intergenerational friendships can be formed!
The Housing LIN has happily signed up to show our support by sharing a selection of resources that you may find useful on intergenerational and multi-generational living:
New Housing LIN guest blog reflects relational care and intergenerational housing
In this Housing LIN guest blog, Jenny Kartupelis MBE, author and Director of Faith in Society, reflects on her evidence about the nature of good practices that facilitate relational care and advocates the creation of intergenerational models as an approach that enables older people to contribute to their communities.
Melfield Gardens, Lewisham - an intergenerational housing scheme for older people and students, designed to a Passivhaus standard
This Housing LIN case study (no 163) explores Melfield Gardens in Lewisham. Winner of a 2021 Housing Design Awards, these 100% affordable homes for Phoenix Community Housing combine intergenerational living with HAPPI principles whilst targeting a highly sustainable Passivhaus standard.
HAPPI Hour - Intergenerational living is the future – where are the opportunities?
We joined forces with founder and director of United for All Ages and chair of the Intergenerational Housing Network, Stephen Burke to host this HAPPI Hour session on intergenerational living. We took a strategic look at the issues facing people of all ages, drawing on latest policy developments, investment opportunities, design, development and management practice, and considered and discussed whether we are giving sufficient voice and choice to create more intergenerational homes and communities in our cities and urban areas.
---
If you found these resource of interest, do also have a look at the pages on Intergenerational Housing curated by the Housing LIN and supported by Places for People Living Plus. And lastly, if you would like to find out more about how the Housing LIN can provide you with bespoke support, please email us at: info@housinglin.org.uk or look at our consultancy page.