Gaps and opportunities related to meeting over 50s consumers' needs for inclusive products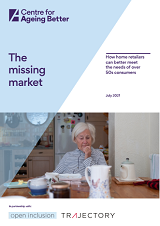 Research suggest that high street retailers are currently overlooking the needs of over 50s in their range of homewares, appliances and fittings, despite estimates that by mid-2030, half of all UK adults will be over 50 years old. They are therefore missing out of a large and growing market for easier to use products that are also aesthetically pleasing.
'The missing market: How home retailers can better meet the needs of over 50s consumers' report explores the market for 'inclusive products' for the home, particularly those found in kitchens and bathrooms, that are defined to be suitable and easy-to-use for everyone, whatever their ability.
While aimed at retailers, the report also provides recommendations for manufacturers and designers, as well as those responsible for developing and managing homes, such as social housing providers and landlords.