Ask your questions to year's cohort of speakers at the Housing LIN Summit 2021 – A Festival of Ideas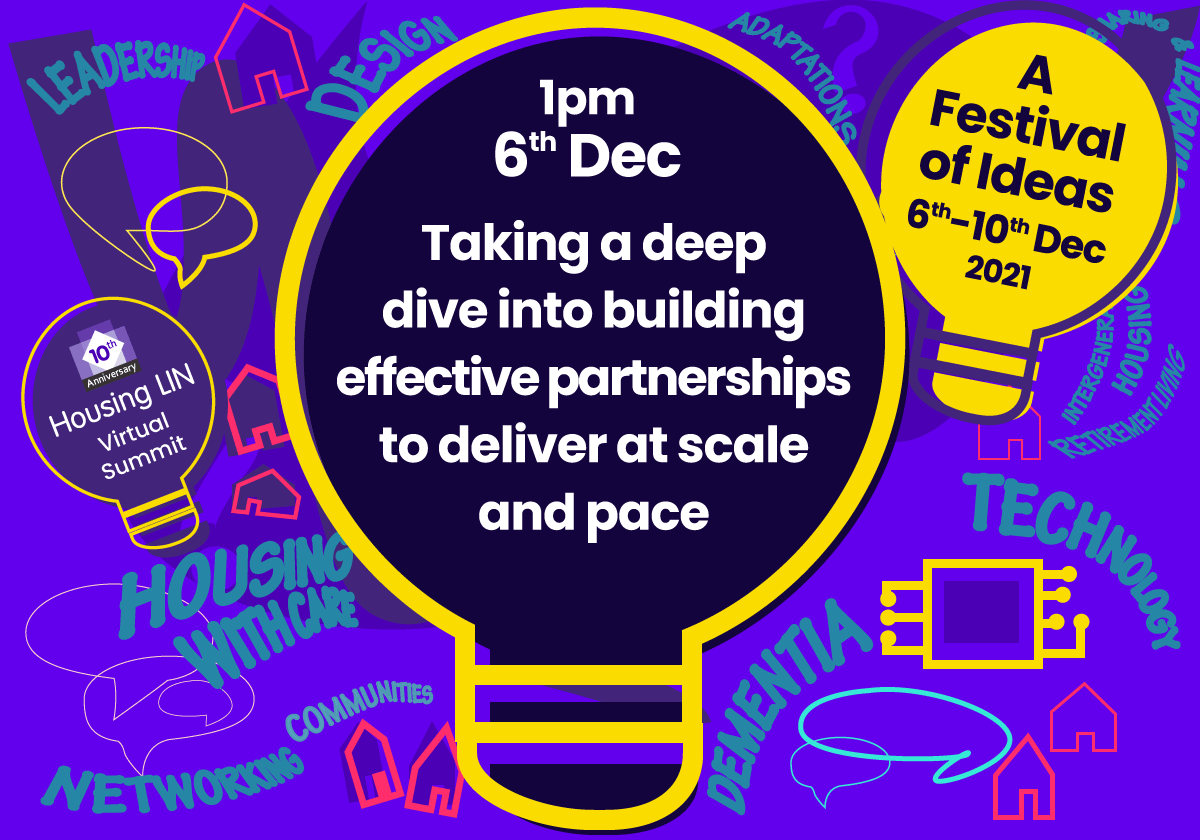 The Housing LIN look forward to welcoming a fantastic line-up of influential figures in this session of this year's Housing LIN Summit 2021 – A Festival of Ideas.
Drawing on the work of Lovell Later Living, Faithful+Gould and partners, this session will take a deep dive into the benefits of driving innovation through strategic partnerships to shape places and build communities fit for the future.

The session will include examples of innovations in procurement, construction and delivery, such as MMC and technology highlighting how this is being put to good effect to generate new HAPPI homes and communities for all generations.
Event date: Monday, 6 December 2021 from 1pm
Let's take a closer look at who our speakers are and what they do!
Jeremy Porteus
Jeremy was formerly National Lead for Housing at the Department of Health responsible for the Extra Care Housing Fund and the Prevention Technology Grant programme. After leaving the Department, he founded the independent Housing LIN (Learning and Improvement Network), bringing together over 25,000 housing, health and social care practitioners in England, Wales and Scotland to identify and showcase innovative housing and technology enabled solutions for an ageing population.
Stephen Wightman
Stephen is the Regional Director leading Faithful+Gould (opens new window)'s consultancy offer in the Modern Methods of Construction (MMC) marketplace. Providing advice and support to existing and new clients on delivery of MMC projects, strategic business planning and business case writing. Stephen has over 22 years' experience in the offsite construction industry spanning residential, healthcare, leisure, education, infrastructure and defense sectors.
Nina Strangeways
Nina is Head of Design and Quality Control at Lovell Later Living (opens new window). She has over 15 years' experience working with and alongside the construction industry, most recently within the Later Living housing sector. As a Chartered Architect Nina brings her depth of technical knowledge to the Lovell Later Living design team, alongside an APM Project Management Qualification focused in Project Management.
Teresa Snaith
Teresa Snaith is Customer Experience Director at Lovell Later Living (opens new window). She has over 30 years' experience in specialist housing covering Operational Management, Business Development, Commissioning and Development/Delivery both new build and remodeling of Supported Housing projects, in particular, Extra Care.
Sue Rugg
Sue Rugg is the Regional Director at Faithful+Gould (opens new window). She has over 20 years' experience working within the construction industry. Sue leads a national integrated retirement communities team delivering cost and commercial management, employer's agent, project management and health and safety services. She has extensive experience with national frameworks driving efficiencies through the procurement of the right consultant team and contractors for clients delivering within the retirement community.
Discussion forum
You are invited to join the conversation!
Delegates and speakers are invited to post questions, ideas or thoughts before and after the event under 'Questions and comments' listed on the session webpages.
This discussion function allows all participants to communicate and interact with each other throughout the Summit's life cycle. Its purpose is to engage different groups within the housing, health and social care sector. We hope this space will provide useful information that can help you learn more.
---
We are extremely grateful to all the sponsors who have made this year's Housing LIN Virtual Summit - A Festival of Ideas, possible. This session is supported by Headline sponsor Lovell Later Living (opens new window) and Associate sponsor, Faithful+Gould (opens new window).