End of Life Care: Helping people to be cared for and die at home
Updated on 14/04/2016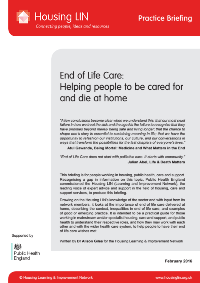 This Housing LIN Practice Briefing looks at the importance of end of life care delivered at home, describing the context, inequalities in end of life care, examples of good or emerging practice, and recommendations for actions.
Funded by Public Health England, it is intended to be a practical guide for those working in:
mainstream and/or specialist housing
care and support
public health
Using this guide these groups can understand their respective roles, and how they may work together, to help people to have their end of life care wishes met.
Documents
Links
Health and housing guides provide roadmap for integrated workingPublic Health England (PHE) and the Housing Learning & Improvement Network (Housing LIN) have published two practical resources aimed at improving services around alcohol misuse, end of life care and the built environment's role in promoting active ageing. The free documents are intended to build on a major undertaking by PHE, NHS England and its partners to improve integration and partnership working between health, social care and housing.
Supported by
We are grateful to Public Health England
for their support to enable us to develop and maintain these pages.
Housing and Health Exchange
Click here
to visit our free web-based programme of knowledge and information exchange to support peer to peer learning and discussion. Use this opportunity to exchange relevant policy and showcase examples of practice that have either helped to transform people's lives and/or improve local service delivery.
This resource appears on the following page(s):
Gill Leng, National Lead: health & homes, Public Health England
"We're delighted to support the Health Intel. We hope it will provide information and encouragement to those seeking to work in partnership on this exciting agenda; bringing together the wealth of expertise from developers and suppliers within the housing sector and specialists in health, social care and supported employment to further enable opportunities for innovation, resource optimisation and creative solutions to be achieved, all with the focus on supporting people to make the most of their lives."
Bookmark