What is Extra Care Housing?
Updated on 15/10/2015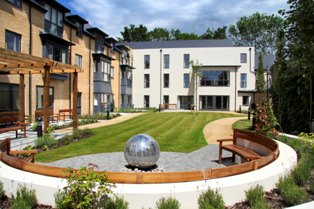 Trailway Court, Blandford Forum, Dorset
Extra care housing is expanding and is now offered by local authorities, housing associations and private providers. There are now approximately 60,000 units of extra care housing in England (source Elderly Accommodation Counsel, June 2015).
The term 'extra care' housing is used to describe developments that comprise self-contained homes with design features and support services available to enable self- care and independent living. It comes in a huge variety of forms and may be described in different ways, for example 'very sheltered housing', 'housing with care', 'retirement communities' or 'villages'. Occupants of may be owners, part owners or tenants and all have legal rights to occupy underpinned by housing law (in contrast to residents in care homes). For a more detailed description of 'extra care housing', please consult the Housing LIN Factsheet No1 'Extra Care Housing: What is it?'
Increasingly extra care housing is recognized as an essential component of joint commissioning by health and social care. Extra care is now being used for intermediate care and rehabilitation as well as longer term housing. Extra care developments provide a focus for integrated working to meet housing, health and social care needs.
These pages contain resources that relate to extra care housing and the information is split into 8 main topics:
Funding - information about the capital funding systems for extra care and in particular the Dept of Health Extra Care Housing Fund bidding process.
Commissioning - information to assist commissioners and planners in areas such as assessing the market for provision, decisions about the revenue funding, re-modelling existing services, delivering outcomes and links to intermediate care.
Strategy - information to assist strategic commissioners in developing strategies for extra care housing including examples of strategies developed in various part of England.
Provision - information to assist commissioners and providers in the operational planning of support services and workforce issues in extra care. Statistics on levels of extra care provision in England are also provided.
Marketing - information to assist providers and developers market Extra Care Housing for older people and help draw on techniques that promote housing with care choices across a mix of tenures.
Evaluation - examples of evaluations of extra care development.
Workforce issues and extra care - guidance on issues of staff management and competencies.
Tenants/service users - information about issues such as user involvement, mixed tenure, nominations and charging.
Scheme Locator - a database that covers over 1300 housing developments across the UK that offer or facilitate care services.
The majority of users of extra care housing are older people but most of the resources on these pages could be applied to other user groups as well. In addition to these pages you can find some resources that are specific to older people and extra care on the Older People pages. There are also examples of extra care development for other user groups on the Learning Disability, Physical Disability and Dementia pages.
Supported by

We are grateful to Sanctuary Supported Living
for their support to enable us to develop and maintain these pages.
Simon Clark, Group Director - Housing and Support, Sanctuary Supported Living
"As a leading national provider in the supported housing sector, we are excited to be working with and supporting the Housing LIN. We are eager to share ideas and best practice to strive for innovation for care and support services in an ever evolving sector."
Funding extra care housing

Visit our extra care funding pages for information on how to review sources of capital funding, modelling a scheme's economic viability and revenue funding.
"We are woefully underprepared for an ageing population"
Lord Filkin, 'Ready for Ageing?'
Bookmark