Pioneering Health and Housing Memorandum of Understanding
Updated on 07/01/2016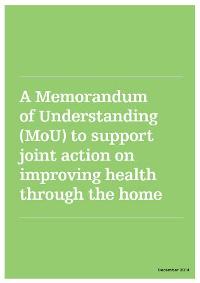 Under the Care Act there is a requirement for closer cooperation of services that support the health and wellbeing of those who may be in need of care and support. An emphasis is placed on greater integration between health and social services to deliver more person-centred outcomes.
As part of a drive for more integration, a pioneering Health and Housing Memorandum of Understanding (MoU) between government departments, its agencies such NHS England, Public Health England and the Homes and Communities Agency, has been signed by sector professional and trade bodies and leading learning networks, including the Housing LIN.
Under the MoU and its accompanying Action Plan, the Housing LIN is responsible for taking the lead in exemplifying relevant policies, tools and examples of practice. These dedicated 'Health Intel' webpages already provide an excellent platform for sharing housing and health tools and resources that can enable practitioners forge stronger health and housing partnership working and deliver system improvements for patients, services users and care givers.
The MoU details areas of improvement and the action plan that will ensure organisations work together to:
Establish and support national and local dialogue,
information exchange and decision-making across government, health, social care and housing sectors;
Coordinate health, social care, and housing policy;
Enable improved collaboration and integration of healthcare and housing in the planning, commissioning and delivery of homes and services;
Promote the housing sector contribution to: addressing the wider determinants of health; health equity; improvements to patient experience and
Develop the workforce across sectors so that they are confident and skilled in understanding the relationship between where people live and their health and wellbeing and are able to identify suitable solutions to improve outcomes.
Documents
Supported by
We are grateful to Public Health England
for their support to enable us to develop and maintain these pages.
Housing and Health Exchange
Click here
to visit our free web-based programme of knowledge and information exchange to support peer to peer learning and discussion. Use this opportunity to exchange relevant policy and showcase examples of practice that have either helped to transform people's lives and/or improve local service delivery.
This resource appears on the following page(s):
Gill Leng, National Lead: health & homes, Public Health England
"We're delighted to support the Health Intel. We hope it will provide information and encouragement to those seeking to work in partnership on this exciting agenda; bringing together the wealth of expertise from developers and suppliers within the housing sector and specialists in health, social care and supported employment to further enable opportunities for innovation, resource optimisation and creative solutions to be achieved, all with the focus on supporting people to make the most of their lives."
Bookmark