A person-centred, pro-active approach to bringing health and social care services together around the individual needs of service users, using multidisciplinary teams working to provide personalised care, especially for those with complex care needs.
Using technology to support people with complex needs
Helen is 68 and has profound learning disabilities and mental health needs. She lives at Hatton Grove, Hatton Grove is a Care Quality Commission (CQC) registered residential care home in Middlesex, supporting adults with a range of learning and physical disabilities. The home is divided into four units, and can support up to 20 adults, each benefiting from their own personal space. Hatton Grove also contains a small flat to support a service user to live independently. At Hatton Grove, all service users need 24 hour care and support. All have complex health needs and physical disabilities and half need two members of staff to assist with all transfers.
Helen has arthritis in both knees and whilst quite safe in her room, when she enters the corridor she is at risk of falling. Although non-verbal, Helen makes it very clear she does not want any night staff in her room. Other service users at Hatton Grove sometimes enter Helen's room at night, which she finds upsetting and on occasion their boisterous behaviour has been of concern to staff regarding Helen's safety.
A door sensor has been fitted which immediately alerts care staff via the CareAssist pager if Helen's door is opened, replacing the need for them to make half hourly checks. This has resulted in a number of benefits to Helen's wellbeing:
Privacy – Helen is much happier now the door sensor has replaced the need for the staff to check on her every half an hour
Danger of falling – this risk has reduced considerably as staff can respond immediately, should Helen venture out into the corridor
Disturbance – this has reduced considerably now that Helen's flat mates would know staff are aware if they enter Helen's room
Social time – Now staff are not required to make half hourly checks on Helen they have more social time to spend with Helen
Jenna Cowling, Registered Care Manager, Hatton Grove commented "Supporting the people that live here is as much about encouraging their passions and developing their abilities as it is about ensuring their personal care needs are met. Telecare has been fantastic for us. Not only does it help to manage risk and preserve dignity, it also frees up staff, enabling them to spend more personal time with the people they work with."
Managing multiple risks and increasing independence
Mrs B lives alone in a caravan on a retirement site. She has mild dementia, diabetes, very poor mobility and high risk of falls. Mrs B smokes, and burn marks around the area where she sits indicate that this is a high risk. Four care visits a day were in place, with breakfast and tea visits for meal preparation and personal care, plus medication prompts, with two further visits each day at lunch and bed time for medication prompts only. Mrs B had a Lifeline home unit and pendant, but failed to use her pendant when she has previously fallen. She has expressed her wish to regain some of her independence.
Mrs B has been given an iVi intelligent pendant, which will automatically raise an alert at the response centre if it senses she has fallen. A heat detector has also been installed which will notify the response centre if it detects a fire. Mrs B has also been given a medication dispenser, which can be refilled by her daughter, and which will help Mrs B take her medicine properly.
Because the medication dispenser has been provided, two of the four care visits a day have been removed, enabling Mrs B to be more independent. The heat detector will help to manage the risks presented by Mrs B smoking, and the iVi removes the risk of Mrs B not pressing a pendant if she falls. Without telecare and her care package it would be unsafe for Mrs B to remain at home.
Reducing Mrs B's care visits from four to two has also resulted in an annual saving of £4,641.
Future services
A good way of categorising the types of technologies are
Responsive – minimum standard of if you press and button and you get help
Enabling – helping you live the life you want to live
Preventative – get ahead of the crisis
As illustrated in the model below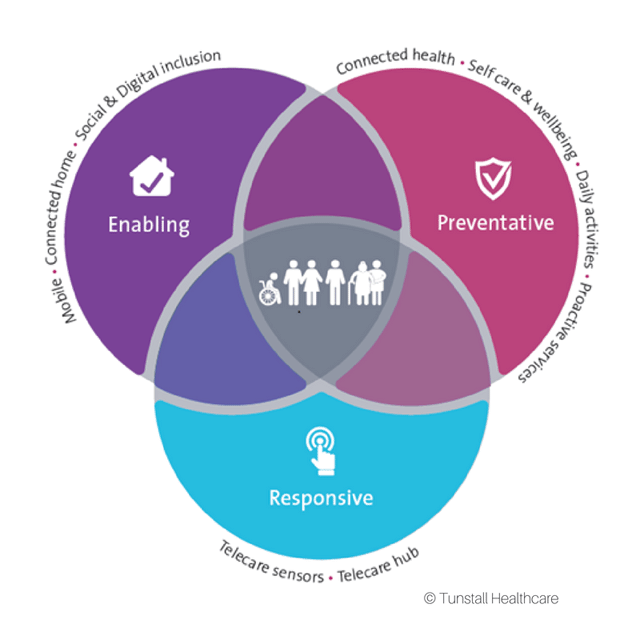 Useful information