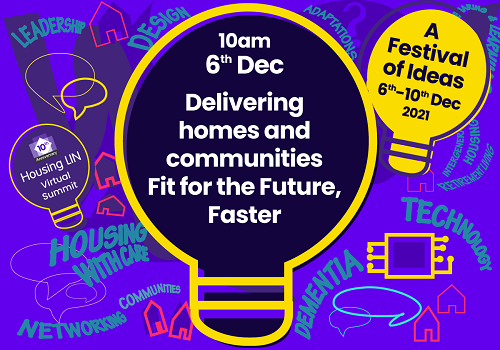 Join us for the opening session of the Housing LIN Summit - A Festival of Ideas, 'Delivering homes and communities Fit for the Future, Faster' on Monday, 6 December 2021 from 10am.
With an opening statement by Jeremy Porteus, CEO at the Housing LIN, this session will be chaired by Paula Broadbent, Managing Director at Lovell Later Living.
They will be joined by:
Toby Lloyd, Fellow at Create Streets Foundation
Sue Cawthray, CEO at Harrogate Neighbours HA
Michael Chang, Programme Manager, Planning and Health (Healthy Places) Officer for Health Improvement and Disparities
And, George MacGinnis, Challenge Director at Healthy Ageing, UK Research and Innovation
This panel of experts will share how they use research, innovation and collaboration, to drive better design of products and services which deliver to present and future customer needs and aspirations.
Illustrating the evidence, social value and strength of Partnership to shape investment into building future proof communities for an ageing population at pace and at scale in the UK.
---
We are extremely grateful to all the sponsors who have made this year's Housing LIN Virtual Summit - A Festival of Ideas, possible. This session is supported by Headline sponsor, Lovell Later Living (opens new window) and Associate sponsor, UKRI (opens new window).