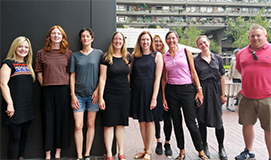 The Housing LIN has launched its first Future Leaders Network: a collaborative and dynamic community of 8 early career individuals from a wide range of practitioner backgrounds. They include people working in operational housing management, joint health and social care commissioning, equalities, policy, and research roles.
Sponsored by Thirteen Group, the free network is fostered by a programme of events that provide the opportunity to meet key industry leaders, and to produce and present a cooperative project and share their learning at the 2020 Annual Housing LIN Conference in March.
Over the coming year, our first cohort of Future Leaders will participate in face-to-face sessions, each with presentations from experts from a diverse range of industries on their early career experience, what/who inspired or influenced them and what qualities they looked out for to enable them to then develop their own leadership credentials.
Watch out for regular updates and blogs from the group.