Housing our Ageing Population: Learning from councils meeting the housing needs of our ageing population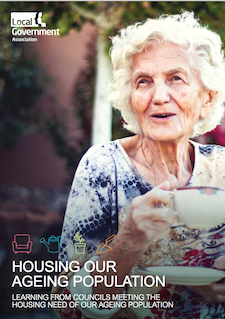 There is a distinct and urgent need to better provide a range of housing options to meet the wide variety of housing circumstances, aspirations and needs of people as they age.
Between 2008 and 2039, 74 per cent of projected household growth will be made up of households with someone aged 65 or older. The suitability of the housing stock is of critical importance to the health of individuals and also impacts on public spending, particularly social care and the NHS.
This LGA report calls for a 'residential revolution' in how councils are addressing the housing needs and aspirations of an ageing population. It follows their Housing Commission (opens new window) which reported earlier this year about how councils can innovate in how they meet the housing needs of their communities.
Written by the Housing LIN for the LGA, the report captures the learning from a selection of exemplar councils (urban, rural, two tier or unitary) which demonstrate how they are playing a significant place-making role in shaping the current and future supply of housing for an ageing population in their areas. The key lessons and themes that emerged from the work include:
Having a clear vision: promoting awareness and changing attitudes to later life
Planning for an ageing population
Delivering and enabling new housing for older people across the public and private sectors
Promoting an integrated approach to housing, care and health
Sustaining older people in mainstream housing
Opportunities and recommendations