With thanks to our partners, we have been able to extend our presence and provide these dedicated online resources on housing an ageing population in Wales. Scroll down the left-hand menu to access a range of key documents we have collated on housing for older people in Wales, including our SHOP@ toolkit (opens new window).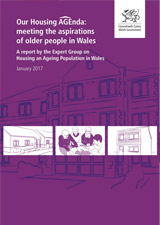 We were also delighted to be invited to be a member and an advisor to the Welsh Government's Expert Group on Housing and Ageing Population. The Group's final report, 'Our Housing AGEnda: Meeting the aspirations of older people in Wales', was published in February 2017. Further information on the Expert Group's Terms of Reference can be found here (opens new window).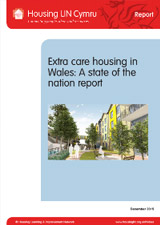 It is estimated that there are only 2,262 housing with care apartments across Wales and, of these 1,888 are extra care housing (Elderly Accommodation Counsel, January 2017). And as outlined in our State of the Nation report, with a rapidly ageing population in Wales and pressure on capital funding to deliver housing with care for older people at scale there is a growing need for public and professional awareness around enhanced housing with care solutions, such as extra care housing, in order to make the case and tailor appropriate local solutions that meet the needs and aspirations of older people.
This has been reinforced in an independent evaluation report on extra care housing (opens new window) in Wales, carried out by Sheffield Hallam University for the Welsh Government (October 2017).