2nd Panel Debate - Delivering the housing and services that older people want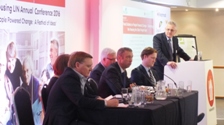 Chaired by: Mel Knight, Group Chief Executive of Castleoak
Panellists included:
Simon Arnold, Group Chief Customer Officer, Tunstall Healthcare
Mark Curran,Development & Sales Director, TheExtraCare Charitable Trust Jeremy Moyse, Head of Strategic Development, SEQOL
Steve Skuse, New Business Director, Willmott Dixon
Michael Voges, Executive Director, Associated Retirement Community Operators
Verena Womersley, Operations Director - Assisted Living, Castleoak
The panellist explored the following questions:
Is the panel aware of innovative housing models which can effectively support people live well into older age, improve their wellbeing, perhaps make better use of existing stock, new technology, procurement frameworks, better links with health and social care? What is your organisation doing?
How is the design of ECH changing in the light of experience and evidence to better meet the needs of older people? Should we have better standards, greater consumer choice, more transparency on offer?
With sector facing operating uncertainties on several fronts, how can we attract further capital and revenue investment to meet demand? What's your position on the use of 'event fees' to cover some of the capital/revenue costs?
And looking into your crystal ball, what are the key things that would make you choose to live in housing with care?
Do we need more new entrants to the sector? If so, how can these be encouraged?
How can be increase public awareness of the emerging housing options for older people and their benefits - i.e. Positive choice not last resort. Are there any silver bullets/quick wins?