1st Panel Debate - Innovation in Design
Charlie Scherer, Chief Operating Officer,Willmott Dixon, chaired this stimulating Panel Debate.
Panellists included: Paul Gamble (Chief Executive, Habinteg Housing) - Ann Dye (Head of Technical Research, RIBA) - Chris Munday (Executive Director-Operations, Hanover HA) - Anne-Marie Nicholson (Partner, PRP Architects) - and Mark Robinson, Chief Executive, SCAPE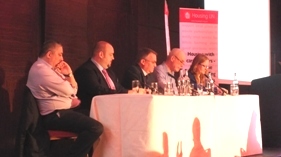 The Panel Debate considered the following:
What needs to be done to stimulate innovative in the sector to deliver new housing for older people? What are the panel members doing in their own organisation?
Is the panel aware of other housing design models which can effectively support people live well into older age, perhaps better use of existing stock, new technology?
How is the design of ECH changing in the light of experience and evidence to better meet the needs of older people and concurrent conditions, disabilities or impairments? Should we have better standards, more regulation, greater consumer choice?
With some dedicated resource available from government for specialised housing, how can we attract further inward capital investment? Are we missing a trick in procurement?, and
Finally, the conference is all about a festival of ideas, how can we best capture these ideas and help adaptive learning, professional development?