Knowledge & Innovation Sessions - 14.10 to 15.10
In the afternoon session, delegates were treated to a choice of 11 different sessions. The menu on offer included:
Led by Heidi Cokayne, Personnel Team Leader; Dave Edwards, St Oswald's Village Resident; Ivan Finney, Training and Development Manager; Maureen Hobbs, Shenley Wood Village Resident, The ExtraCare Charitable Trust.
This session, supported by ExtraCare Charitable Trust, looked at how The ExtraCare Charitable Trust has attracted, recruited and engaged its workforce across its villages and housing schemes. What initiatives are needed to become an employer of choice and how do you introduce people into an organisation's culture? How do you ensure your employees know how to perform confidently and competently in their job role? How do you retain staff in an increasingly competitive marketplace? Why it is important to involve residents in the recruitment and induction processes and how do staff and residents inspire each other? What are the challenges and what can be done better?
Matthew Warnes, CEO, Adaptive Technology (Europe) Limited and Simon Herdsfield, Head of Wellbeing & Support, Herefordshire Housing
This session, supported by Tunstall Healthcare was in two parts and covered:
Better for disability - How to develop, design and deliver life changing "technology enabled housing care" How to develop, design and deliver life changing "technology enabled housing care"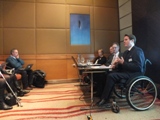 This session demonstrated how Tunstall/ATEL/HB Villages technology-enabled bespoke developments offer a totally new concept, which are attractive to individuals, their family, commissioners, local authority, care provider and registered provider, because they deliver care and accommodation in an environment that supports independence and which is more cost effective than traditional provision.
What do we do / the "better for disability" vision
Challenges in the learning/physical disabilities housing sector
Why is change needed?
How technology is delivering outcomes - personal, financial, system
Future gazing
Better for dementia - Enhanced Living, utilising technology to support life skills, reablement, lifetime care and independent living.
This session set out how Herefordshire Housing won the Telecare Services Association's Crystal Award for Technology Enabled 21st Century Care and Support
Their aims and objectives - Providing care and support under one roof; Preventing deterioration of health conditions; High quality supported housing; Avoiding hospitalisation
How technology has made a difference for residents and our business
Mel Knight, Chief Executive, Castleoak and Michael Voges, Executive Director, Associated Retirement Community Operators (ARCO)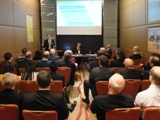 This session, supported by Castleoak, focused on the various models of housing with care by market segment, tenure type and financial structure and illustrate with some examples. It also looked at the market context, in terms of demographics and where there may be future opportunities.
Joy Sumner, Day Care Manager, Housing & Care 21; Lisa Birchall, Business Research Analyst, Housing & Care 21; Vanessa Pritchard-Wilkes, External Affairs Manager, Housing & Care 21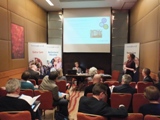 This session was supported by Housing & Care 21. As dementia becomes increasingly prevalent in society, housing has a significant role to play alongside health and social care to support people to live a better life for longer. Housing & Care 21 has a range of housing options and care offers for people living with dementia. This session discussed the range currently offered and will identify how services are shaped for the individual rather than the condition to promote positive risk management and independence.
Anne-Marie Nicholson, Partner, PRP and Jenny Buterchi, Director, PRP Architects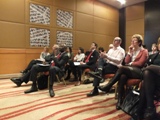 This session is supported by PRP Architects. Using case studies of exemplar schemes from both Housing Association and Private sector clients, this session will look at how the middle income retirement housing market is slowly and innovatively being addressed and how design solutions must adapt for each client and site location. Case studies will include: St Bede's in Bedford and Queensway in Leamington Spa for Orbit Homes, Wycliffe Village for Grant Taylor in Wycombe and Buckhurst Hill for McCarthy & Stone. Copies of the Housing LIN St Bede's case study was available: Converting to HAPPI at St. Bede's, Bedford (opens new window).
Sophia Lawrie, Framework Manager, WDH and Stephen Corbett, Care Sector specialist, WDH
This session was supported by Willmott Dixon. SCAPE's Major Works Framework is the most established public sector frameworks in the U.K. It is one of a suite of local authority owned National Frameworks which can be used for any type of construction building project with a value of £2 million and above. SCAPE's frameworks are currently accessed by over 450 clients across all sectors designed to deliver a total of at least £1 billion of construction work.
Denise Brennan, Head of Strategy and Policy, Guinness Care and Support; Helen Webb, Customer and Community Engagement Manager, Guinness Care and Support; Tim Rabone, Policy and Research Manager, Guinness Care and Support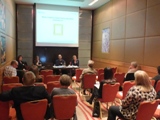 This session, supported by The Guinness Partnership, looked at how we have attempted to move away from a traditional service level 'activities" based approach with customers to a more holistic organisational approach using a unifying theme of 'Joy' to create a Festival of Creativity with the aim of promoting creativity across the organisation. We took inspiration, ideas and expertise from other organisations, came up with a few of our own and developed our first Festival of Creativity. Find out what was learned from this experience and how they are going to take it forward. Contribute your own experiences and discuss why this essential way of promoting wellbeing should be core and not an add on to services- but how can it be funded?
8. Are housing associations ready for an ageing population?
no slides were used during this session
Charlotte Cook, Partner, Winckworth Sherwood and Siobhan Pierce, Head of Operations (East), Genesis Housing Association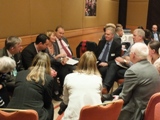 This session was supported by solicitors, Winckworth Sherwood. We are all very aware of the changing demographics and the anticipated growth in the number of older people, living longer within our communities; whilst historically we have associated of age with infirmity, does that remain the case? Many older people will have to remain working, well into what may previously have been considered retirement age.
How will this impact on housing associations - both as the housers of those who will become that older generation, and as (to date) one of the main providers of supported and specialised housing. Are housing associations geared up and ready for these changes - and indeed do they know what those are? And can they start to inform public policy in this arena?
Click here (opens new window) to access a report by The Smith Institute, commissioned by Genesis Housing Association on the subject
Click here (opens new window) to access another presentation on the subject, given by Martin Wheatley, Visiting Fellow, The Smith Institute at the East of England regional Housing LIN meeting in December 2014
Anne Dye, RIBA Head of Technical Research; Alex Tait, RIBA Research Projects Officer; and Sophie Handler, Age-Friendly Manchester, RIBA Research and Innovation Group member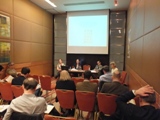 This session was supported by RIBA. Over 2014 the RIBA collected over 400 items of research, guidance and case studies on the theme 'Design for Ageing', and featured some of the authors from the collection in its research symposium chaired by architect, Níall McLaughlin. This session provided attendees with an overview of the 'design for ageing' knowledge base for practitioners and academics, highlighting the gaps that may be filled by your future research. It also explored some of the most inspiring recent designs as critiqued by academics from a wide variety of ageing specialisms and presented in an alternative Age-Friendly handbook (opens new window) for the socially engaged urban practitioner developed by RIBA, Age Friendly Manchester, Manchester Institute for Collaborative Research on Ageing and Age UK.
Dr Simon Evans, Principal Research Fellow and Head of Research, Association for Dementia Studies, University of Worcester; Sarah Waller CBE, Programme Director, Enhancing the Healing Environment (EHE), The Kings Fund; Dr Julie Barrett, Research Coordinator, Housing and Dementia Research Consortium (HDRC).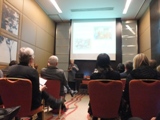 This session gave an overview of the current recommendations, guidelines and tools relating to dementia friendly buildings and environments and the development of the Kings Fund EHE Environmental assessment tool "How dementia Friendly is your housing?" Members of the HDRC presented good practice case studies and the HDRC research priorities relating to dementia friendly buildings and environments, to get participants thinking and talking about their priorities in this area.
Imogen Blood, Imogen Blood and Associates and Dan Gaul, East of England Lead, Housing LIN
The workshop considered the benefits of both quantitative and qualitative analysis to develop older people's housing strategies. Older people's housing needs and expectations are reviewed through a recent Housing LIN project in Bolton. The project met with over 170 older people to consider their future needs and reviews the difference in priorities between older people and the council's public sector partners. The attitudes and aspirations of self funders/owner occupiers are explored to achieve a holistic approach to strategy development to meet the requirements of the Care Act.
Future needs were predicted through the Housing LIN and EAC's SHOP@ analysis tool (opens new window).