Knowledge & Innovation Sessions - 12.10 to 13.10
In the session before lunch, delegates were treated to a choice of 11 different sessions. The menu on offer included:
Lesley Blower, Commissioning Manager; Brian Hobbs, Shenley Wood Village Resident; Richard Tower, Communications Manager, The ExtraCare Charitable Trust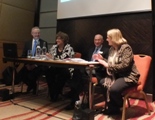 This session, supported by ExtraCare Charitable Trust, looked at the marketing and commissioning of The ExtraCare Charitable Trust's Shenley Wood Village in Milton Keynes - a mixed-tenure development with 300 homes and 18 health and leisure facilities. It explored the development of a 'virtual village' community two years before Shenley Wood opened. Does this approach help build a sustainable community? Does early marketing achieve early occupancy and does the extra investment pay off? What impact does resident involvement in the village's development have on its future success? What are the challenges and lessons learned for future villages?
Tom Brown, Assoc Director for Extra Care, Hanover Housing Association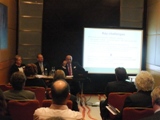 This session, supported by Tunstall Healthcare, demonstrated how technology is supporting Hanover's vision for affordable homes and improved well-being for residents.
Hanover's vision
Our challenges
How technology is helping us overcome some of the challenges we face
What of the future
John Galvin, Chief Executive, EAC; Alex Billeter, Project Manager, EAC; Jane Endersby, Head of Specialist and Sheltered Housing, Catalyst Housing Ltd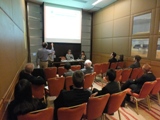 This session was supported by Legal & General. Elderly Accommodation Counsel (EAC), is lead partner in the FirstStop Advice network. To underpin its housing options advice service EAC has developed a number of tools to help older people reach informed housing decisions and to share their subsequent experiences with others.
This session focused on two examples: EAC's HOOP (Housing Options for Older People) tool and its Resident Consultation Service (for residents of sheltered and extra care housing) to introduce a discussion around the potential for EAC FirstStop to deliver real time information to the sector.
Toby Williamson, Head of Development and Later Life, The Mental Health Foundation and Antony Walker, Business Research Analyst, Housing & Care 21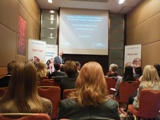 This session was supported by Housing & Care 21. Loneliness is one of the most significant issues facing older people. Age UK reports that 1 million older people regularly go an entire month without speaking to anyone. The Mental Health Foundation is working across a number of Housing & Care 21 Extra Care and retirement courts to deliver peer to peer support groups to people experiencing, or at risk of experiencing loneliness. This session reflected on the successes and outcomes of the pilot year and state how the project will be rolled out over the next three years.
Kim Scott, Individual Support Director, Places for People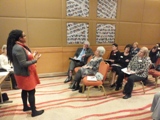 This session, supported by Legal & General, focused on how Places for People utilise psychologically informed environment as a service delivery approach to managing a customer's service that is person centred, enabling their staff to understand what drives behaviour and therefore enabling them to tailor a holistic approach supporting customers in their services
Paul Smith, Commissioning Co-ordinator for Staffordshire County Council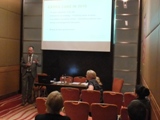 This session was supported by Willmott Dixon. SCAPE's Major Works Framework is the most established public sector frameworks in the U.K. It is one of a suite of local authority owned National Frameworks which can be used for any type of construction building project with a value of £2 million and above. SCAPE's frameworks are currently accessed by over 450 clients across all sectors designed to deliver a total of at least £1 billion of construction work
Karen Croucher, Research Fellow, Centre for Housing Policy, University of York and Sarah Buchanan, Research Director, Thomas Pocklington Trust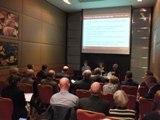 In this session, hosted by Thomas Pocklington Trust, Karen Croucher, Research Fellow at the Centre for Housing Policy introduced the findings from a recently completed study, funded by the NIHR School for Social Care Research. The study explored the care and support needs of older people living with dementia and sight loss living in housing settings, including extra care housing. Using case study examples, the session explored the particular challenges faced by older people living with sight loss and dementia, the facilitators and barriers to meeting complex needs, and the role that housing can play in supporting independence.
Mark Bugler, National Business Development Director, SCAPE AMSandDS Framework, Faithful+Gould; Darren Heffer, Director, Saunders Boston; Jason White, Technical Director, MLM Building Control Ltd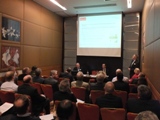 This session supported by Faithful + Gould, Boston Saunders Architects and MLM Building Control Ltd will cover the concept and reality of the innovative Flexi Apartment and how to future proof buildings for increasing levels of frailty and dementia whilst respecting the needs of residents when considering fire safety and suppression precautions and building owners managed risk assessments.
Anne-Marie Nicholson, Partner, PRP and Jenny Buterchi, Director, PRP Architects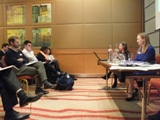 This session was supported by PRP Architects. Using case studies of exemplar schemes from both Housing Association and Private sector clients, this session looked at how the middle income retirement housing market is slowly and innovatively being addressed and how design solutions must adapt for each client and site location. Case studies will include: St Bede's in Bedford and Queensway in Leamington Spa for Orbit Homes, Wycliffe Village for Grant Taylor in Wycombe and Buckhurst Hill for McCarthy & Stone. Download the Housing LIN St Bede's case study by clicking on Converting to HAPPI at St. Bede's, Bedford (opens new window).
Ben Hartley, Director, Carterwood Ltd.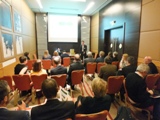 Session was supported by Carterwood. In an interactive session based very loosely on the legendary board game, Ben Hartley will provide an insight into the current state of the extra care market. He looked at land prices around the country, how much it should cost you to put your "houses" there and you can expect when people land on your squares! Community Chest and Chance Cards will undoubtedly come into play. One lucky delegae entered in an instant draw in the session and won an IPad Mini. Monopoly? More like the lottery!
Christy Holden, Head of Commissioning (Accommodation), Kent County Council and Virginia McClane, Commissioning Manager (Accommodation), Kent County Council
This session explored the experience of a shire Authority with 12 District and Borough Councils and 7 Clinical Commissioning Groups working in an environment of changing health, housing and social care landscapes, developing a holistic market position statement for accommodation based services is not without challenge. Add to this budget reductions, structural changes, multiple planning applications and s106 developer contributions, this then becomes a mammoth task! Those attending the session heard about the development and implementation of Better Homes: Greater Choice, the Kent Accommodation Strategy,and how statutory organisations are collectively providing clear messages to the market on future accommodation requirements. Download the Housing LIN Kent case study by clicking on Strategic Housing Market Assessment: Housing with Care for Older People in Kent (opens new window).