Funding Matters - Extra Care Housing
Updated on 14/04/2016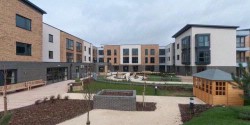 Newman Court Garden, Basingstoke
There has never been a more challenging time for commissioners, developers and providers seeking to secure capital investment and/or sustainable revenue streams for extra care housing.
The information set out under the subtopic in the left-hand side menu offer a selection of useful resources specifically on access to general capital funding pots and also signpost to dedicated capital funding streams in England. In particular, we highlight the Department of Health's 2013-2015 (Phase One) and 2015-2018 (Phase Two) Care and Support Specialised Housing Fund arrangements, and the HCA's Affordable Housing Programme arrangements.
Housing LIN Technical Brief
This recent update of our Funding Extra Care Housing Technical Brief details the sources of capital and revenue funding driving new investment opportunities for developing new extra care housing and maintaining the viability of existing provision in England.
Set out in 3 parts, the Brief comprehensively covers:
Documents
More information from the Housing LIN on revenue funding care and support in extra care housing, visit our commissioning extra care housing pages
Supported by:
We are grateful to Orbit Group
for their support to enable us to develop and maintain these pages.
Paul Richards, Executive Director of Customer Services, Orbit Group
"With huge pressures on operating & development budgets in the housing with care sector, good quality information that informs commissioning, influences procurement and drives standards is critical to our futures. The Housing LIN's data on funding specialist housing does just that"
Bookmark