Health and housing guides provide roadmap for integrated working
Updated on 29/03/2016
Public Health England (PHE) and the Housing Learning & Improvement Network (Housing LIN) have published three practical resources aimed at improving services around housing and end of life care, the built environment's role in promoting active ageing and on older people's alcohol misuse. The free documents are intended to build on a major undertaking by PHE, NHS England and its partners to improve integration and partnership working between health, social care and housing.
Housing LIN director Jeremy Porteus says:
"These documents answer that call for practice-based roadmaps to help housing and related services work with their colleagues in public health. They can help providers, policymakers and commissioners ensure that older and vulnerable people in their communities receive the housing-related support that will enable them to live independently and maximise their health and wellbeing."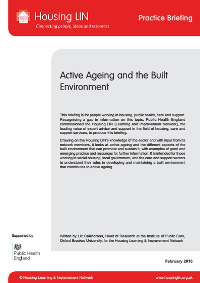 Research shows that older people with easy access to the outdoors and community facilities are more likely to be physically active and enjoy the health and social benefits that brings. Good built environments also reduce the risk of falls and can reduce health inequalities.
---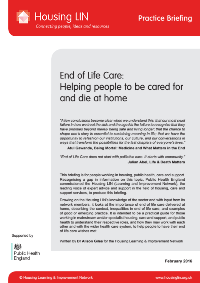 Ensuring that people nearing the end of life are cared for at home if that is their choice is the focus of this briefing. Research shows that most people prefer to die at home. Despite improvement over the last decade, nearly half (47%) of deaths in England occur in hospital. Older people and those on lower incomes and from ethnic minorities are less likely to die in their usual place of residence. It should help those working in specialist or mainstream housing and public health to work with local health organisations to support people to die in their usual place of residence.
---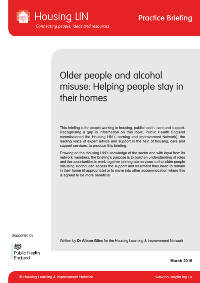 This briefing examines the relationship between older people and alcohol misuse. It intends to build an understanding of respective roles and opportunities to work together to integrate services so that older people misusing alcohol can access the support and treatment they need to remain in their home, if appropriate, or to move into other accommodation, where this is agreed to be more beneficial.
Documents
Supported by
We are grateful to Public Health England
for their support to enable us to develop and maintain these pages.
Housing and Health Exchange
Click here
to visit our free web-based programme of knowledge and information exchange to support peer to peer learning and discussion. Use this opportunity to exchange relevant policy and showcase examples of practice that have either helped to transform people's lives and/or improve local service delivery.
This resource appears on the following page(s):
Gill Leng, National Lead: health & homes, Public Health England
"We're delighted to support the Health Intel. We hope it will provide information and encouragement to those seeking to work in partnership on this exciting agenda; bringing together the wealth of expertise from developers and suppliers within the housing sector and specialists in health, social care and supported employment to further enable opportunities for innovation, resource optimisation and creative solutions to be achieved, all with the focus on supporting people to make the most of their lives."
Bookmark