Housing LIN Cymru
Updated on 28/07/2016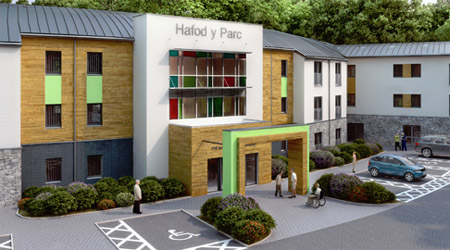 Hafod y Parc, Conwy

We are delighted to announce that the Housing Learning and Improvement Network has received pump-priming funding from the Welsh Government to help extend our presence in Wales.
It is estimated that there are only approximately 2,500 units of housing with care across Wales, of which 2.066 are units of extra care housing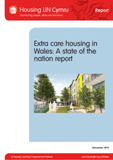 (Elderly Accommodation Counsel, August 2014). Furthermore, with a rapidly ageing population in Wales and pressure on capital funding to deliver housing with care for older people at scale there is a growing need for public and professional awareness around enhanced housing with care solutions, such as extra care housing, in order to make the case and tailor appropriate local solutions that meet the needs and aspirations of older people.
To this end, and with the support of the Welsh Government, the Housing LIN will work with and add value to existing networks in in Wales to:
Develop SHOP@ Wales to allow councils, health authorities and developers better predict the future care and housing needs and prioritise areas for development to maximise use of scare resources and reduce development risk
Share learning on development techniques, funding models and design insights
Promote knowledge and innovation exchange between commissioners, providers, academic bodies/universities and wider industry 'players' on the potential for market development/growth in construction, and
Provide a platform for better integrated working across housing, health and social care economies and help better understand the outcomes desired and achieved by older people in extra care housing
Showcase latest policy and practice developments via a selection of briefings, viewpoints and case studies
From the side menu, you can click through to several new sections that will be of interest. They are:
Regional Update - July 2016
For the latest news in this region please take a look at our Quarterly Newsletter:
Wales Regional Noticeboard
Post relevant regional updates to share with other members in your region, request practice examples, etc.
Receive regular updates on what's happening in Wales
Not registered on our website?
If you are a first time visitor to these pages, register with the Housing LIN to receive regular updates on what's happening in Wales.
Already registered on the Housing LIN?
If you are an existing Housing LIN member and would like to be kept up-to-date on our activities in Wales, login and update your areas of interest.
John Howells, Director of Housing and Regeneration at the Welsh Government
"Ensuring a good supply of affordable decent specialist housing for our older people is a challenge no government should shrink from or delegate entirely to others. The Housing LIN's invaluable resources play a valuable role in supporting the sector to improve the quality and diversity of housing with care in Wales"
Bookmark